Know Your Player Rights
You may think that as a player, online casinos are there for your entertainment and nothing else. But there is actually so much more you should know. While you have to follow the terms and conditions of the online casino you use, you also have your own rights that the website needs to abide by.
If you're unsure about your rights as a player, the experts at Betkiwi are here to give you all the information you need. Continue reading to get to know your player rights.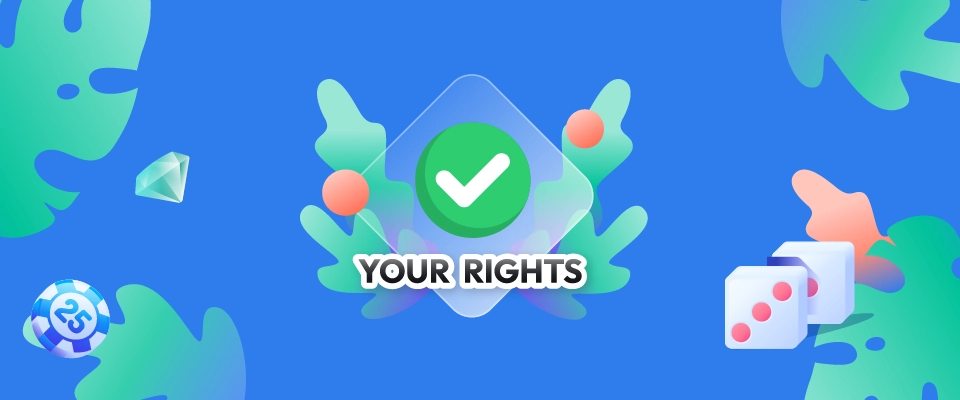 Your Rights As An Online Casino Player
Ready to find out your rights as an online casino player? Here are the main ones to remember:
Fairness and Randomness
You have the right to expect fair and unbiased gameplay. Reputable online casinos use Random Number Generators (RNGs) to ensure that game outcomes are random and cannot be manipulated.
Privacy and Data Protection
Online casinos should protect your personal information and handle it securely. They should have measures to safeguard your data and ensure it is not shared with unauthorised parties.
Security
You have the right to a secure gaming environment. Reputable online casinos use encryption technology to protect your financial transactions and personal details from unauthorised access.
Transparent Terms and Conditions
You have the right to clear and easily accessible terms and conditions. Online casinos should provide you with comprehensive information about their rules, policies, and procedures, including details about bonuses, withdrawal limits, and wagering requirements.
Access to Support
You have the right to access customer support services. Online casinos should offer channels for you to reach out for assistance, such as email, live chat, or phone support.
Responsible Gambling
Reputable online casinos promote responsible gambling and provide resources for players experiencing gambling-related issues. They should offer self-exclusion options, deposit limits, and information on how to seek help for problem gambling.
Prompt Payouts
You have the right to timely and accurate payouts. Online casinos should process your withdrawals in a reasonable timeframe and provide updates on the status of your transaction.
Did you know? If a player isn't happy with the service of an online casino or feels that their rights aren't being met, they can go through dispute resolution with customer support.
Transparency and Fairness of Casinos
As a player, you deserve to play at a transparent and fair online casino. Below we look at a few ways that websites ensure these factors are maintained.
Licensing and Regulation
Trustworthy online casinos operate under valid licences from reputable gaming authorities. These licences impose strict regulations on the casino's operations, including requirements for fairness, transparency, and player protection requirements. It's essential to check if the online casino you're considering is properly licensed.
Random Number Generators (RNGs)
Fair online casinos utilise Random Number Generators (RNGs) to ensure those game outcomes are random and unbiased. RNGs are sophisticated algorithms that generate unpredictable results, making it impossible for the casino or players to manipulate the game's outcome.
Independent Audits
Many reputable online casinos engage third-party auditing companies to conduct regular audits and tests of their games and systems. These audits verify the fairness and randomness of the games, ensuring that they adhere to industry standards. Look for casinos with certifications from respected auditing entities, such as eCOGRA (eCommerce Online Gaming Regulation and Assurance).
Game Providers
The credibility and reputation of the game providers that a casino collaborates with also contribute to transparency and fairness. Well-known and trusted software developers undergo their own testing processes to ensure their games are fair and reliable. Reputable online casinos often partner with renowned game providers in the industry.
Terms and Conditions
Transparent casinos provide clear and comprehensive terms and conditions. They outline the rules of play, bonuses, promotions, wagering requirements, and withdrawal policies in an easily understandable manner. Reading and understanding these terms is essential before engaging in any gambling activities.
Responsible Gambling Initiatives
Transparent casinos prioritise player protection and responsible gambling. They provide resources and features such as deposit limits, self-exclusion options, cooling-off periods, and links to support organisations for individuals who may need assistance with gambling-related issues.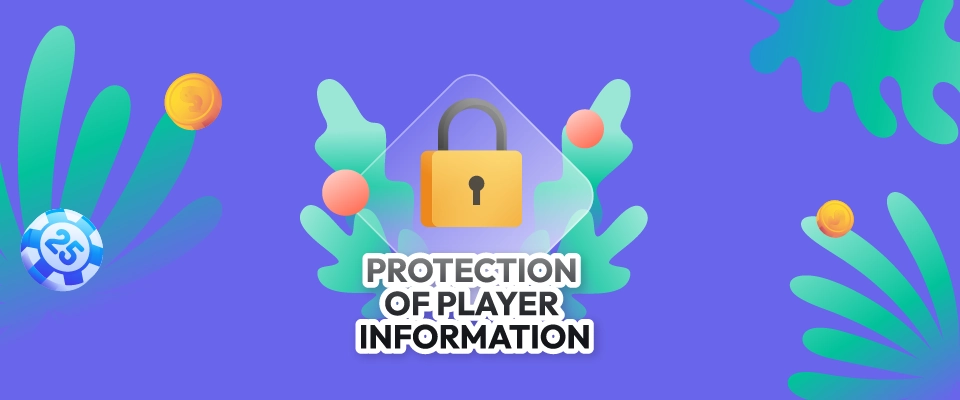 Protection of Banking and Player Information
Protecting banking and player information is a critical aspect of reputable online casinos. Here are some measures that trustworthy casinos typically implement to ensure the security of such information.
Encryption
Reliable online casinos utilise secure socket layer (SSL) encryption technology to protect sensitive data transmitted between your computer or mobile device and its servers. This encryption ensures that your banking details, personal information, and any other data you provide remain private.
Payment Processors
Reputable casinos partner with trusted, established payment processors employing advanced security measures. These processors often have their own layers of encryption and security protocols to safeguard your financial transactions.
Privacy Policies
Transparent casinos have clearly defined privacy policies that outline how they collect, store, and use player information. They should specify that they will not sell, trade, or share your data with unauthorised third parties without your consent, except as required by law or under their privacy policy.
Data Protection Measures
Reliable online casinos implement various technical and organisational measures to protect player information. This includes restricted access to data, firewalls, regular security audits, and secure data storage practices.
Compliance with Regulations
Every country has regulations to protect your data, such as the Privacy Act in New Zealand and General Data Protection Regulation in the European Union. Reliable online casinos will comply with the rights in place by these regulations, ensuring that your personal information is collected and stored in the right ways.
Secure Account Authentication
You don't want just anyone getting into your casino account, which is why trusted casinos place robust authentication procedures in place. This ensures that only you can access your bankroll, which might be done through two-factor authentication or security questions for password recovery.
Anti-Fraud Measures
Reputable casinos will do all they can to prevent fraudulent activities across their platforms, so they implement a wide range of monitoring tools to do so. It doesn't only protect the casino but also the players from things like identity theft and unauthorised access.
Did you know? No marketing materials from online casinos can be misleading, as players have the right to accurate information.
Player Funds Segregation
Player funds segregation is a security measure online casinos take to protect your funds while you have an account with them. It separates the money players deposit into their accounts from the funds the casino uses to operate.
This process ensures that player funds are always where they need to be and are readily available for withdrawal when a player requests them. The casino will continue to do this, even if they are having financial difficulties or on the edge of bankruptcy.
By segregating player funds from their own money, it shows the online casino is looking out for the best interests of its account holders. The money a player deposits into their account or wins will always be theirs unless they have placed bets on games and lost.
How Do I File a Complaint, and Who Can I Talk To
If you have a complaint about an online casino, you'll first need to make the complaint with the casino customer support. They will often stipulate in the terms and conditions how complaints are handled. Usually, a complaint will be escalated to the gambling operator if a resolution can't be met with the complaints department. Ensure you keep a record of all communications with the casino.
There are also Alternative Dispute Resolution providers you can contact with your complaint.
Online casinos are licensed and regulated by a governing body, for instance the UK Gambling Commission. You can contact the licensing body of the casino, for instance, the UK Gambling Commission or the Malta Gaming Authority. They will investigate the complaint and follow due diligence to find a resolution.
Alternatively, you can reach out to eCOGRA. eCOGRA is an independent body that upholds fair, responsible, and safe gaming. Sites that have the eCOGRA seal are monitored continuously to ensure that standards are maintained. If you have a complaint against one of their approved sites, you can escalate it with them.
The Independent Betting Adjudication Service, or IBAS, is another independent service that handles disputes between a player and an operator.
Summary About Knowing Your Player Rights
Players have the right to a safe and fair gaming experience when playing at online casinos, and that's why there are various laws and regulations in place to protect them. From the guarantee of random outcomes to protected funds, you can rest assured that you are put first when you sign up for a reputable online casino.
There are numerous online casinos and plenty of sources that recommend the best online casinos. However, when choosing an online casino, you must ensure that you go with a trusted source, like Betkiwi. At Betkiwi, we only recommend licensed and regulated online casinos so that you can play in a safe and secure gambling environment. We also review each casino we recommend. Our reviews are honest and accurate so that our players can make an informed decision about a casino.
You can find further insights into an online casino by reading player reviews. These reviews reveal a lot about a casino regarding their legitimacy, reputation and what it is like to be a member.
Glossary
Fairness. The idea that all players have the same opportunity to win, and there is no bias when playing their favourite casino games.
Random Number Generator (RNG). An algorithm implemented by online casinos to generate random outcomes when playing games and ensure no one can guess or cheat the system.
Privacy. Keeping players' personal and financial information confidential, so it cannot get into the hands of third parties.
Data Protection. Measures that are implemented to keep player data safe and prevent the opportunity for fraud or unauthorised access.
Security. Protecting all aspects of the player's account through the use of things like SSL encryption and two-factor authentication.
Transparency. Being completely open about how the online casino works, such as providing information on the terms and conditions and various other policies.
Terms and Conditions. A set of rules and regulations regarding the online casino and what it offers. You will usually find information on restrictions, bonuses, payments, and responsible gaming in the terms and conditions.
Licensing. An official 'stamp of approval' from a regulatory authority which states that the casino can legally operate and that it follows a strict set of rules and regulations.
Responsible Gambling. An online casino implements measures and practices, such as deposit limits and self-exclusion, to promote safe gambling to its players.
Customer Support. A team available for players to talk to if they ever have any questions or come across technical issues they need assistance with.
Payouts. The transfer of money from a player's casino account to their bank account through the process of withdrawal.
Self-Exclusion. A form of Responsible Gambling that online casinos offer that allows players to prevent themselves from accessing their account or depositing money for a specific period of time.
Audits. Independent reviews and assessments conducted by third parties to ensure that online casinos comply with regulations, maintain fair gaming practices, and protect player interests.
Know Your Player Rights FAQ
Knowing your rights as a player is fundamental. Read the terms and conditions of the online casino, read their policies and know where you stand.
How do I check if an online casino is licensed?
Licensing information for an online casino is displayed at the bottom of their home page. You can check the status of the online casino on the regulator's website to ensure the licence is still valid.
KYC is short for Know Your Customer and is used by online casinos to verify your identity. The process ensures you are of legal gambling age, you are who you say you are, and that funds used to gamble have been obtained from legitimate sources. A KYC process usually involves uploading proof of ID, address, and funds.
How do I know if games are fair?
Leading software providers will use Random Number Generator software regularly audited by third parties to ensure that the results of games are fair. They also ensure that players can't manipulate results or outcomes.
What do I do if I have a complaint?
Firstly, contact the casino with your complaint. They will have a resolution centre, and your complaint can be handled within the organisation. You can also contact the licensing body or operator with your complaint and other third parties like eCOGRA who you can contact.
How do I know my funds are safe?
Reputable online casinos, like those recommended by Betkiwi, will use multiple security measures to protect players. Firstly, they will use SSL encryption to protect personal and financial information. Licensed casinos will obey the regulations of their jurisdiction, will keep player funds in a separate account, and have anti-fraud measures in place.