Golf Betting Guide
Golf is a widely enjoyed sport in New Zealand, boasting a large player base and numerous courses. Given its popularity, it's no surprise that golf betting is also quite prevalent. In this golf betting guide, we cover the best bookmakers, how to bet on golf, tips, types of bets, common mistakes and strategies.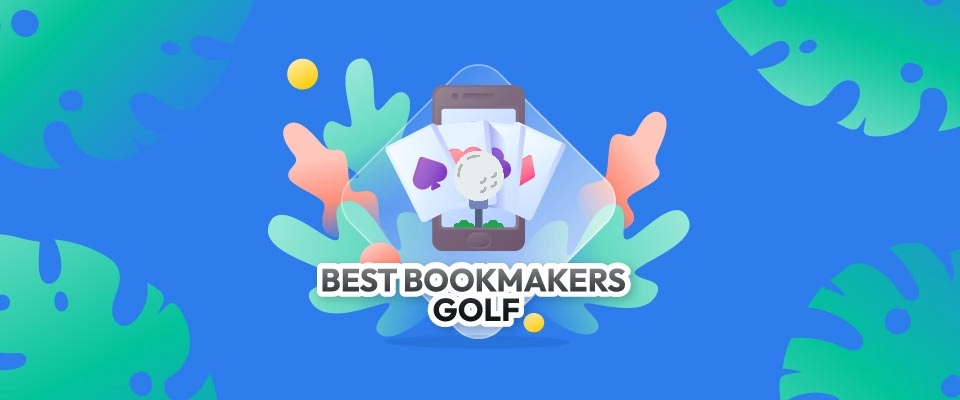 Best Bookmakers For Golf
Before wagering on golf, it's important to choose a bookmaker that prioritises your betting experience. The good news is that there are a good variety of great betting sites available to New Zealand punters.
Our golf betting guide features a list of recommended bookies that will surely match your expectations. They're known for their fair odds, wide variety of markets, and exciting welcome offers and promotions. Discover more below:
How To Bet On Golf
If you're looking to get started on golf betting, you've come to the right place. Although there are several types of golf bets, placing a bet is actually incredibly easy. Follow the steps below to bet real money on golf:
Choose one of our recommended bookmakers.
Visit the site and create a new account.
Look through the bonuses available and claim one that suits your needs.
Make a deposit to activate your welcome bonus.
Head over the golf betting section and look through the markets.
Click on the market you'd like to bet on.
And that's it. Now, all you have to do is hope for the best and wait until your bet settles.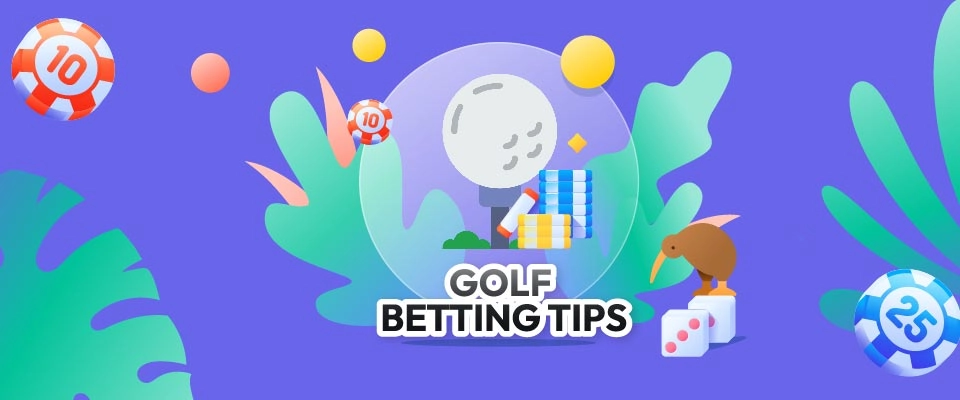 Golf Betting Tips
Betting on golf isn't easy, especially if you prefer placing outright bets, as even the best golfers can have odds over 10/1. This makes it hard to predict who will secure the top spot of a tournament. And that's not to mention the several variables that come into play when it comes to golf. Fortunately, there's something you can do about this – golf betting tips.
Just because betting tips don't increase your odds of winning, that doesn't mean they're not useful. In fact, tips can be extremely useful to teach you how to create a betting budget, how to track your bets, and how to use betting calculators to your advantage. Look at our best golf betting tips that can also apply to other sports.
Create a budget before betting
Setting up a budget is one of the best things you can do as a punter. Not only will it prevent you from chasing losses, but it'll also improve the way you bet by ensuring you don't bet more than you should. Whether you win or lose your golf bets, you should always stick to your predefined budget.
Read the latest golf news
Being on par with the latest news can be a huge advantage if you bet on golf. Golfing news sites are constantly releasing updates about the world of golf, including information about tournaments, links, and potential injuries. We recommend taking your time to read the news before you place a bet. Before you bet on a player, look at their recent form and how they have fared on the course being played.
Check the weather forecast
Weather plays a huge role in golf, as it can affect the course conditions. However, one thing you understand is that the conditions aren't the same for every player, as moisture, wind, and temperature can change throughout the day.
We recommend taking all the variables into account before betting on golf, especially in the larger tournaments, like the Masters or US Open, where there's a lot at stake.
Use a betting calculator
If you're a sports betting enthusiast, you've probably heard about betting calculators. These tools have multiple uses that allow you to improve the way you bet. The most common betting calculators you can find include:
Accumulators, or accas, are a type of bet that involves various selections. You can easily predict how much your accas will pay you by using a betting calculator. Simply enter the odds for each event and the calculator will automatically estimate your payout.
Value betting calculators
These calculators allow you to compare the probability of an outcome versus the odds offered by the bookmaker. If the odds are higher, the bet is considered to have value.
Hedging is a strategy that requires betting against your initial choice to cover for potential losses. Using a hedging calculator can accurately tell you how much you'll need to stake to turn a profit.
Track your bets using spreadsheets
Tracking your bets using spreadsheets is one of the useful habits for betting on sports, including golf. Looking at your betting records is a good way to keep track of your profit, winning ratio, and other important statistics. It can also be useful to avoid mistakes or identify your flaws.
Compare odds before you bet
The events and markets don't vary too much between bookies. On the flip side, odds can have greater variations, making it crucial to opt for the bookmakers with the best odds. You should always take your time to look at different betting sites in New Zealand before choosing one that has the best odds for the events you're looking to bet on.
Stick to trustworthy betting sites
Reputation is one of the most important aspects an online bookmaker should have. Luckily, there are many trustworthy betting sites available in New Zealand. The best bookmakers will have strict gambling licences issued by reputable gambling commissions, such as the Malta Gaming Authority (MGA) or the United Kingdom Gambling Commission (UKGC). All of the betting sites we recommend for Kiwi players carry a licence from a reputable gaming body.
Trustworthiness can also be measured in terms of the bonuses and offers offered, especially when it comes to the wagering requirements. In addition, pay attention to the payment methods, withdrawal times, and customer support experience.
Types Of Golf Bets
Online betting sites are constantly coming up with new ways to bet on golf. Nowadays, you'll find dozens of markets per event, ranging from traditional bets like the tournament winner or the top players, to modern bets such as propositions, head to head, and each way.
Are you curious to learn the differences between these types of golf bets? Read the following sections of our golf betting guide to learn more.
Tournament winner
This is the most basic bet you can make in golf. Essentially, it involves guessing who will win the tournament. Since major tournaments have over 100 golfers, the odds for guessing the winner are usually high. Golf tournaments are almost always four-day events, which can affect the odds if you prefer betting live.
Occasionally, you may come across bookmakers that allow punters to bet on specific rounds. This is a popular choice for those that prefer to avoid the risk of a tournament winner bet. You can wager which golfer will have the lowest round for a certain day.
Each way
Each way bets are a good way of betting on the outright winner of a tournament while keeping your options open. This type of bet is divided into several smaller bets that cover the first place, but also the chance of finishing in the top five or top 10, depending on the bookie.
For example, if you place an each-way bet on Rory McIlroy to win the PGA Championship, you'll win whether he places first or fifth. As expected, the odds of each way bets are lower than choosing the outright winner.
Head to head
Head to head bets are also called matchups because, as the name implies, they put two golfers against each other. You win if your chosen golfer places ahead, no matter what the rest of the results are.
Most of the time, the odds for each option of a head-to-head bet are similar, as they're usually golfers with similar characteristics. However, it can be useful knowing the strengths and weaknesses of each golfer before placing these bets.
Top 5, 10, or 20
This is one of the most popular types of golf bets due to how simple they are. Basically, it involves guessing if a player will land a spot among the top five, 10, or 20. This is a great bet for punters who aren't too confident in picking an outright winner.
3-ball
These bets work just like head-to-head bets, although the difference is that you're putting a golfer against two others. This is one of the best bets to make if you know a golfer does better than its competitors on a specific course or they are in better form.
Over/Under
As you can probably tell, this bet involves guessing if something will occur more or less times than the amount predetermined by the bookie. When it comes to golf, over/under bets usually apply to golfers on an individual round, which as Over/Under -3, or over the course of a competition.
Propositions
Propositions, commonly referred to as props, are one of the most fun types of golf bets you can make. They're mostly related to anything that isn't the outcome of the tournament. Some of the best prop bets you can make include the number of hole in ones, the golfer that will have the lowest score on par 3s, or which golfer from a certain nationality will place higher.
Golf Betting Mistakes
A great thing about mistakes is that they're one of the best ways to learn, and golf mistakes aren't an exception. Knowing what are the most common mistakes in golf will help you understand what you should avoid and how you can improve your knowledge of wagering on the sport.
Our golf betting guide includes four mistakes most beginners make when betting on golf. Learn why they're considered mistakes and find out how you can easily avoid them by reading the sections below:
Downplaying the course conditions
Paying attention to the course conditions was one of the first golf betting tips we gave you in this guide. However, most golf betting beginners don't consider the weather before placing their bets.
Another important aspect to consider is the weather in the days before the golf tournament starts, especially if the golf course has drainage problems. Heavy rain can affect the green and the fairway, for instance.
Only betting on favourites
Betting on favourites is one of the hardest bets to get right in golf. This is because tournaments often have over 100 participants, meaning anything can happen. Sticking to these bets may not have the results you're looking for. Also it is pretty obvious that favourites do not have the best odds.
Another thing to look for is the fact that the number of bets placed on a certain outcome will affect its odds. Therefore, the odds you bet on may not reflect the actual likelihood of an outcome. This can affect your payouts in the long run.
Not considering injuries
Most golf betting beginners fail to account for injuries when they bet. The reason for this is that most punters believe injuries don't affect the golfers' performance. However, that couldn't be further away from the truth.
Contrary to what you may think, injuries play a huge role in golf. Even minor injuries can affect a golfer's shots. This is why it's crucial to read the news before betting on golf, especially for big tournaments like the Masters, the US Open, or the PGA Championship.
Betting as if all courses were the same
Golf is unlike any other sport because every course has a different approach to it. This means that the outcome of your bets can vary according to the golf field being played, as each golfer has its own strengths and weaknesses.
Some golf courses favour longer hitters while others favour more accurate players. Knowing how a course's design affects the performance of the golfers can give you a real advantage.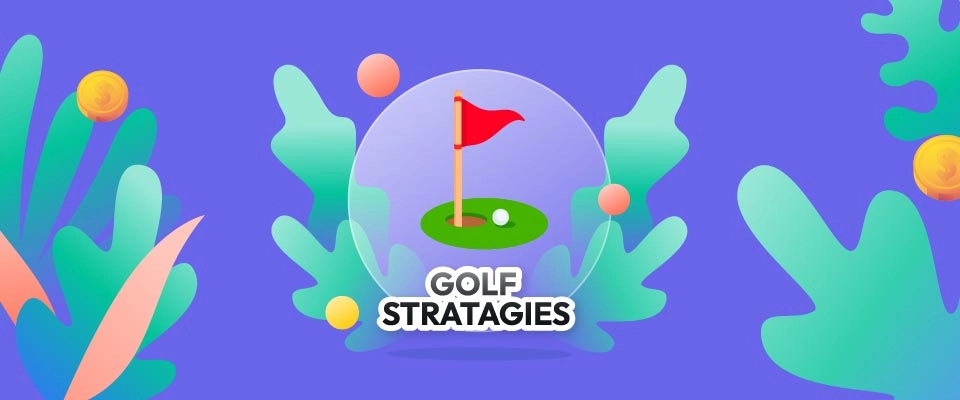 Golf Betting Strategies
Golf is one of the trickiest sports to bet on. This is because there are plenty of variables that can affect your bets, such as the course, the weather forecast, or even minor injuries. Luckily, playing with a strategy can help you decrease their impact.
We compiled a list of best strategies to help you bet on golf. As with gold betting and tips, strategies can give you an advantage and slightly increase your odds. Check them out:
Learn how to find value in bets
Value betting is one of the most popular strategies among experienced punters. To have value, a bet must be priced at higher odds than the actual probabilities of the outcome. This strategy requires you to calculate the probabilities before comparing them to the bookmaker's odds. If the odds are higher, it means you're more likely to win than the bookie thinks.
Spread your bets across different golfers
Coverage is key when it comes to betting on golf. Since tournaments have a lot of golfers, it's best to place several smaller bets instead of putting all your eggs in the same basket. For instance, if you have 100 NZD to bet, consider placing five tournament winner bets instead of going all-in on one golfer. A good way to bet on golf competitions is by choosing one top golfer, two to three mid-tier golfers, and a couple of underdogs with long odds.
Use live betting to your advantage
Live betting is an exciting feature that allows you to bet on golf as the events progress. It's the perfect tool for punters who wish to bet on golf as they watch their favourite tournaments.
The odds for live events are constantly changing based on the bets placed by other punters, but also on what's happening on the course. You can take advantage of this to benefit from better odds, which may increase your payouts.
Stick to head to head bets
Betting on one golfer to beat another is one of the best bets you can make in golf. This is because it reduces the randomness associated with betting on a tournament winner. It also makes things simpler, as you'll only have to look at the statistics of two golfers before deciding on who to bet. Sure, the payouts will not be as significant but it gives you a much better shot to make a profit than betting on a single golfer in the field.
Learn how to use the cash out feature
Cash out is one of the best betting tools you can use to your advantage. If you do it right, you can use this feature to secure some winnings when you're pulling ahead or cut your losses if you're falling behind.
Key Facts About Golf Bets
The oldest golf course was made in 1552 in St. Andrews, Scotland.
The odds of hitting two hole in ones in a row is approximately one in 67 million.
Betting on golf is a practice as old as the sport itself.
The PGA Tour golfers with the most hole in ones are Robert Allenby and Hal Sutton, with 10.
The biggest tournaments are the four Majors on the PGA Tour, which are the Masters, PGA Championship, US Open, and British Open.
The fastest hole scored by a team of four took 24.75 seconds.
Tiger Woods and Sam Snead are the golfers with the most PGA Tour wins, at 82.
Summary About Golf Betting
Our golf betting guide was made for everyone, whether you love golf but never took the time to understand how bets work, or you simply wish to improve your knowledge. Either way, we hope it provides you with useful strategies and tips that can help you take your golf betting experience to the next level.
Learning about the most common mistakes helps you understand what you should avoid when betting on golf. It may also improve your chances of succeeding. All you have to do now is look through the best online bookmakers in New Zealand and start betting on various tournaments around the world.
Is betting on golf popular in New Zealand?
Yes. Kiwis are huge golf enthusiasts. There are over 250.000 players and over 380 golf courses in the country.
Can punters from New Zealand bet on golf?
Yes. There are many bookmakers in New Zealand where punters can bet on golf. All you have to do is sign up for an account and make a deposit.
What are the best golf bets to make?
The answer to this question is a matter or preference. If you prefer riskier bets, consider betting on the tournament winner. If you're more conservative, choose each way or head-to-head bets.
What are the best golf competitions to bet on?
The best golf competitions to bet on include the PGA Championship, US Open, British Open and the Master Championship. The reason is for bigger tournaments such as these there are more betting markets available, especially for prop bets. Also, for the Majors you will often find specific promotions for them at various sportsbook that accept Kiwi players.
Can I bet on golf with a bonus?
Yes. There are several bookies in New Zealand with welcome bonuses and other offers that you can use to bet on golf. However, make sure you read the terms and conditions of the bonus to ensure you can bet on golf with a bonus.
Where can I find the best odds to bet on golf?
You can find the best golf odds by comparing bookmakers. Alternatively, there are several sites which compare odds automatically. The toplist we have above are all sportsbooks that offer competitive golf odds.
Does cash out work with golf bets?
Yes. You can use cash out to settle your golf bets sooner. Cash out is useful to secure some profits or cut part of your losses.
54 Articles

Wayne has been writing about iGaming news and sites for several years, with a particular focus on New Zealand casinos. His background includes being an English teacher, and a professionally-published writer/editor for over ten years.
More Articles From The Author