Fast Payout Online Casinos NZ (2023)
When looking for an online casino, players prioritize swift and fast transactions, but not all casinos provide fast withdrawals. That's why a fast withdrawal casino will allow you to receive your winnings immediately. That's why this page provides a list of fast withdrawal online casinos in New Zealand, fast payment options and an in-depth explanation of what determines withdrawal times.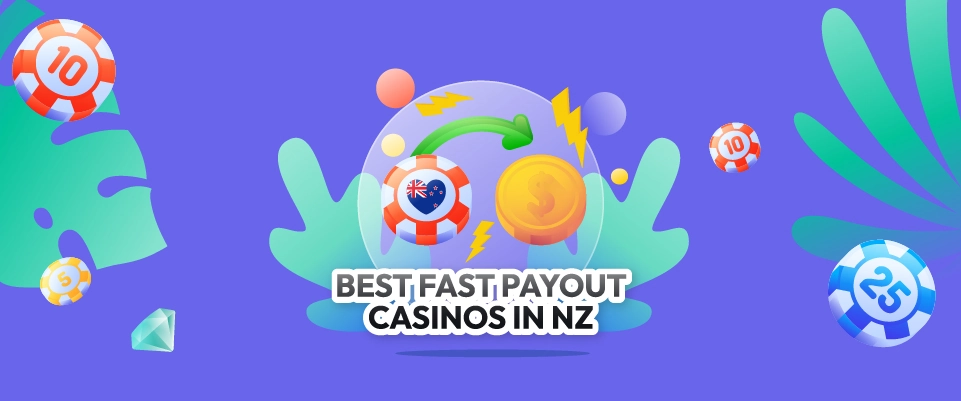 After evaluating and rating their withdrawal policy and payout times, we made a list of the 10 fastest payout online casinos NZ.
Fastest Instant Payout Casinos
Jackpot City – Up To 48 Hours
JackpotCity Casino was founded in 1998 by Bayton Group Limited. Players can use a variety of payment methods to deposit and withdraw in their site. They offer withdrawals up to 48 hours using payment methods such as ecoPayz, Neteller. If players decide to withdraw money using Visa or Bank Transfer method that will take up to 1-3 business days. They also don't have any extra fees and all of their payments are in NZ Dollars, so players from New Zealand don't have to worry about exchange rates.
Wildz Casino – Up to 24 Hours
Wildz casino was established in 2018 by Rootz LTD. Minimal withdrawal amount for NZ players is $20 and the withdrawal process speed is 24 hours. Players are able to use such payment methods for their withdrawals – Skrill, Neteller, ecoPayz, Inpay and Finaro.
SkyCity Casino – Up To 24 Hours
Established in 2019 and operated by Silvereye Entertainment. Minimum withdrawal amount 20NZD and it can take up to 24 hours to withdraw the money using e-wallet, up to 3 days if you're using Visa and up to 5 days if using bank transfer.
LeoVegas – Up to 24 hours
Leovegas casino was founded in 2011 by LeoVegas Group. The minimum withdrawal amount is 20 NZD and the time amount for a withdrawal can take up from 24 hours to 3 days based on the selected withdrawal method. If the player has selected bank transfer as their preferred withdrawal method it can take up to 7 business days.
Abo Casino – Instant
Abo Casino was launched in 2021 and it's operated by Hollycorn N.V. The minimum withdrawal starts from 30 NZ$ for most payment methods but for some methods like Bank International and CoinsPaid v2 they start at 300 NZ$. The withdrawal processing time is instant, except Bank International, that takes from 5-7 banking days. There's no fees when withdrawing.
N1 Casino – Instant
This casino was launched in 2017 by N1 Interactive Ltd. Their minimum withdrawal is 30 NZ$ and withdrawal times vary based on the withdrawal method. If players use Visa or Mastercard for their withdrawals it can take up to 3 banking days for the withdrawal. If Bank Transfer is selected as their method, it will take from 3-5 banking days. For instant withdrawals preferred withdrawal methods are Skrill, Neteller, Ecopayz and MiFinity.
Highroller Casino – Instant
Highroller casino was developed by Happy Hour Solutions Ltd and launched in 2017. Their minimum withdrawal ranges from 10 NZ$ to 50 NZ$, based on the selected withdrawal method. All of their withdrawal options are instant except for bank transfer, by choosing this option for withdrawal it will take up to 5 business days for the money to reach the players account.
Lionspin Casino – Instant
Lionspin casino was established in 2023 by XXL Services N.V. They have a higher withdrawal limit than all the other casinos in this list, instead of 30 NZ$ their minimum withdrawal limit is $45. They make up for the high withdrawal limit with the fact that all of their withdrawal methods are instant.
Conquestador Casino – Instant
Conquestador casino was launched in 2018 by Mobile Incorporated Ltd. Their minimum withdrawal amount starts from 20 NZD, for crypto options it starts at 100$ NZD. For MuchBetter, Jeton, Skrill, Neteller, Ecopayz, Astropay, BTC and USDT withdrawal times are instant. If players choose to withdraw using Bank Transfer it can take one day and if using Visa the time will reach up to 3 days.
Loot Casino – 72 Hours
Loot Casino was developed by Jumpman Gaming in 2009. Their minimum withdrawal starts from 10$, but they do have a transaction fee of $2,50 for each withdrawal. Their withdrawal time is 72 hours.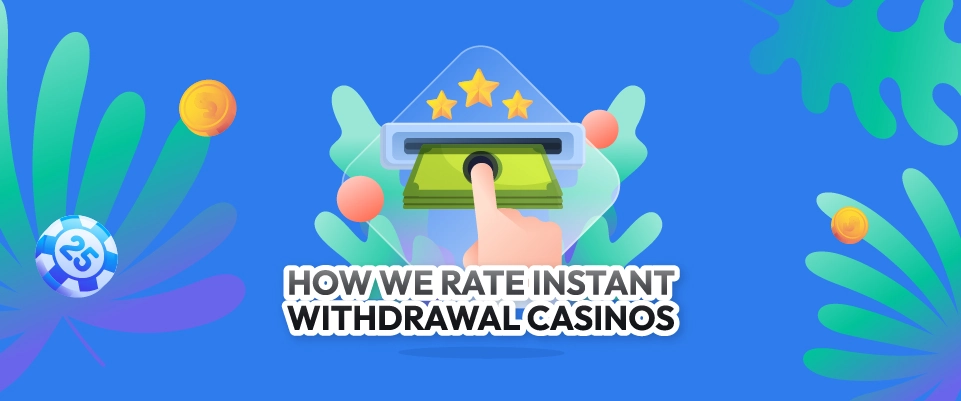 How We Rate Instant Withdrawal Casinos
When we are rating instant withdrawal casinos, there are various factors that we take into consideration. We want you to have the best experience with online casinos so it's crucial that we research and make sure they are up to our standards. Here's the factors that we include:
Licensing and Security
Game Selection and Providers
Payment Methods and Withdrawal Process
Term and Condition Transparency
Responsible Gambling Tools
Types of Payment Methods for Fast Payout Online Casino NZ
While there are many payment and banking methods that the fastest withdrawal online casino NZ can list, we looked at some of the most popular methods. Not seeing these methods listed at online casinos is rare, but you should note that they might not be available in New Zealand, depending on the casino.
Visa
Visa is one of the most popular credit and debit card options, and it's incredibly rare not to see this payment method listed at a fast payout online casino NZ. Many fast-payout online casinos NZ offer Visa since it's an international card brand and generally a universal payment method. However, cards often tend to have transaction fees levied by the card companies, and they can take between one and five days to payout your winnings. There are also some card companies that don't accept transactions from online gambling service providers.
Skrill
One of the more common eWallets, Skrill, is a UK-based eWallet that has grown to be available in more than 40 countries. If an online casino offers eWallets as a payment method, Skrill will likely be listed there. It also has low to no fees and pays out within 24 hours to three days. However, Skrill is one of the payment methods often listed in the payment restrictions of bonuses as a non-valid deposit method when claiming a bonus.
Neteller
Neteller is an eWallet established in Canada and has grown to be a globally available payment method. Many online casinos use Neteller as a deposit and withdrawal method, as it has the fast payout times of eWallets and low to no fees when withdrawing. Neteller is sometimes identified as a non-valid deposit method when claiming a bonus, yet it remains one of the fastest payment methods for Kiwi players.
Mastercard
Mastercard is the second most popular credit and debit card brand found at most online casinos. Although it pays out within one to five days, it has some transaction fees from the card company's side and is not always available as a withdrawal method. Some countries also restrict the use of credit and debit cards at online casinos and often have different withdrawal limits than other banking methods.
Paysafecardard
Paysafecard is a prepaid card that uses a 16-digit code to deposit money into your bank account. While Paysafecardard often has low or no fees, they are not often offered as withdrawal methods. Players can easily deposit using Paysafecard, but if they are offered as a withdrawal method, the withdrawal limits are very low, and they take between one and three days to withdraw.
How to Find the Fastest Payouts at Online Casinos in New Zealand
When looking for a fast payout online casino NZ, we look at what payment methods they offer, their processing times, payout speed and payout rate. A combination of these factors makes a platform the fastest payout casino NZ or an instant withdrawal online casino.
The payout rate refers to the theoretical amount a player can expect to get in returns when playing at a casino. It's the RTP of the overall online platform and is a good guideline to follow. However, the payout rate on its own isn't an accurate judge of whether the casino is the fastest payout online casino NZ.
When evaluating the fast withdrawal casinos NZ, we also consider what can cause a delay in the payout process, how likely that delay is to happen and whether all the banking methods offer a fast payout or just some of them. Our list of the fastest payout online casinos in New Zealand allows you to find the top fastest withdrawal casinos NZ in one place.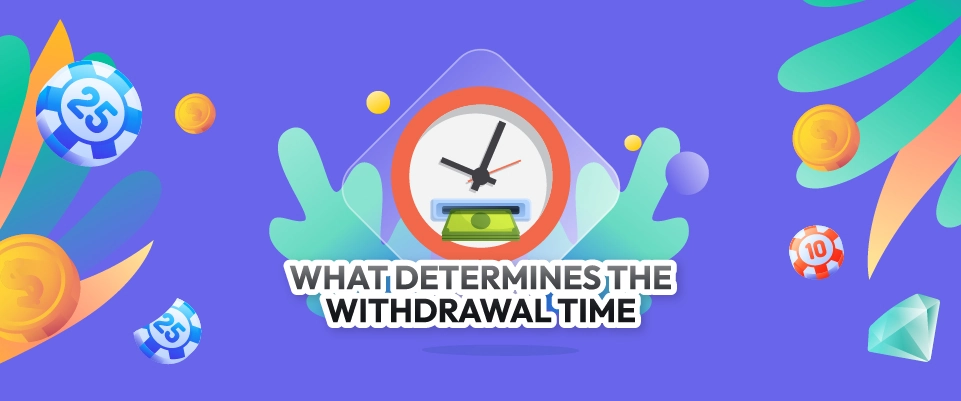 What Determines the Withdrawal Times of A Casino
While a casino has some control over its withdrawal times, the payment operator also influences how long a withdrawal takes. The online casino can initiate the withdrawal on their side within minutes, and then the general transferring times will apply. While a casino can speed up the process by a short processing time and approve the withdrawal request within a few hours, players will still be subject to the below timeframes.
Withdrawal Times and Limits Break Down – By Payment Methods
The withdrawal times and payment limits can vary from casino to casino. This is a general overview of what most casinos offer, but it's not always the case. The withdrawal times can also change depending on the amount you're trying to withdraw. As such, always check your cashier for more information when making your withdrawal request.
Payment Method
Visa/Mastercard
Paysafecard
Neteller
Skrill
Other eWallets
Crypto/Bitcoin
Withdrawal Times
Instant to Five Days
Instant to Three Days
Instant to Three Days
Instant to Three Days
Instant to Three Days
Instant to Three Days
Instant to 24 Hours
One to Seven Days
Limits
NZD10 – Casino Dependant
NZD20 – NZD1,000
NZD5 – Casino Dependant
NZD5 – Casino Dependant
NZD5 – Casino Dependant
NZD5 – Casino Dependant
No limits
NZD10 – Casino Dependant
General Payment Processing Guidelines
When evaluating a casino's payout policy, it's best to look at some general payment processing guidelines. These guidelines consider the standard withdrawal times of various payment methods and the expected processing times. After comparing many online casinos and their services and offerings, a baseline has been set over what to expect from the top fastest payout online casino NZ.
Reasonable Payout Times
The first is to see whether the casino offers reasonable payout times. We've listed the industry standards for the different payment methods above, which most casinos should follow. Depending on the amount you withdraw, the payout times might lean more towards the faster side, sometimes allowing your payout to still happen within the same day. However, online casinos should have reasonable payout times and not list payout times that are more than the industry standard.
Processing Times
Processing times are entirely up to the casino, and this is where most of the delays in a withdrawal request can come in. We generally expect the fast payout online casino NZ to have processing times between instant and 24 hours. However, many casinos have processing times up to 72 hours, some even longer. Overall, we believe there's no reason to have processing times longer than 72 hours unless the account hasn't been verified or there's a problem with the payout request.
However, we prefer instant or at most 24 hour processing times and consider these Kiwi casino sites to be better than others. Many of the fastest New Zealand online casinos process withdrawal requests within a few hours, ensuring players get their money within the same day or a few days at most.
Specific Payment Methods and Inherent Delays
Despite the fast payout speeds of many Kiwi online casinos, some payment methods are more likely to experience delays than others. Often, these delays are on the payment processor's side rather than the casino. Below are some inherent delays you can experience when using a specific payment method.
An overall delay that might occur when you request a withdrawal is that your internet connection is lost. In such cases, you can't be sure whether the request went through or not, causing a delay in the payout process. It's always best to contact the casino first to see if they received the request and if you're depositing, first check your bank to see if the payment went through.
Another factor that can delay payments is if you make several withdrawal requests simultaneously. Some casinos don't allow for multiple withdrawal requests, while others allow it but combine the different requests within a 24-hour window. This can delay the time it takes to process your withdrawal and transfer it.
Bank Withdrawals
Bank transfers are one of the payment methods that take the longest to withdraw. This is due to most banks' processing times, which can take up to seven days. When transferring money internationally and from one bank to another, the process takes longer. The different banks must communicate with each other, and their own approval of the transaction is pending. If the payout is in a different currency than your bank account, then it might also take longer, as the payout must be exchanged into your fiat currency first.
Debit /Credit Cards
Debit and credit cards, like bank transfers, also have to undergo several checks by the card companies. Sometimes, these checks are completed almost immediately, resulting in instant withdrawals. Other times, it might take a bit longer, especially if the card service provider has to verify the transaction. This can result in card payments taking up to five days in the worst-case scenario.
eWallets
eWallets are considered one of the fast withdrawal methods, but even they can have some inherent delays. Generally, the delay can come if the payout currency needs to be exchanged into your account currency or if the amount is large. Another factor is when you requested the withdrawal. If it's over a weekend or public holiday, your payout might take longer, as most payment service providers work on standard business day hours in the week.
Same Day Withdrawal Online Casinos
Same day withdrawal online casinos offer the best payout speeds, and players receive their winnings the same day they request them. This is not always possible, even if a casino is an instant withdrawal online casino, depending on several factors.
The first thing to take into consideration is processing time. To be a same day withdrawal casino, the casino needs instant processing times, taking up to six hours to process your withdrawal request. This allows them to initiate the withdrawal transfer on the same day still.
The second is to look at what payment methods are available. Not all payment methods take the same time to withdraw your funds. When looking for same-day withdrawal, Kiwi players should use either Visa, Mastercard, or eWallets.
The third is to consider the amount you're withdrawing. Bigger withdrawal amounts tend to take longer to get processed by the payment service provider and thus might not happen on the same day. If you need your funds instantly, then it's better to withdraw a smaller amount than a larger amount.
When you make your withdrawal request is the fourth thing to keep in mind. If you're playing at a casino with certain work hours, then keep in mind that the casino will only process requests within those hours. Furthermore, if you make a request later in the day, you'll likely only receive it the next day, even if they have 24/7 service.
Online Casino Next Day Payout
Next day payouts at online casinos often happen when something delays a same-day payout. This can be due to players placing the request late in the day, outside of the casino's working hours, using a longer transacting payment method or requesting a larger amount to be withdrawn.
If you can't have a same-day payout, the next day payout is the second-best option. You'll generally also find more online casinos offering next day payouts, as many have a 24 hour processing period. This is often to give Kiwi players the chance to cancel their withdrawal requests or combine all withdrawal requests within 24 hours.
How to Withdraw at a Top Paying Online Casino NZ
When you withdraw at a top paying online casino in NZ, the process is remarkably similar from casino to casino. Below we break down exactly what happens when you withdraw and the general time frame of each step. Ensure that you have completed the KYC process beforehand. Otherwise, the casino can delay the payout.
Request Your Withdrawal
The first step is to request your withdrawal. Head over to your cashier and select the Withdrawal tab. Here, you can choose from the available payment methods which one you want to use. Remember, most casinos only allow you to withdraw using a method you've deposited with at least once. After selecting your payment method, enter your payment details and the amount you wish to withdraw before clicking the button to approve the request.
Casino Processing
The casino will not process your withdrawal. This processing time can vary from casino to casino, from as little as one hour to as much as 72 hours or more. Overall, the fastest payout online casino NZ takes only a few hours to process your request. When processing a withdrawal request, the casino ensures that the player completes all the wagering requirements and any bonus terms if applicable and has the necessary amount in their account balance.
Payment Provider Processing
After the casino approves the request, they initiate the transfer. At this point, it's out of the casino's hands and into the payment provider's hands. The payment provider has its own processing time, verifying where the payment comes from and into which account it's being paid into. It also applies conversion rates and, at times, a transaction fee for its service. This process can either be instant or take up to seven days, depending on the payment method. It might also be the stage where the payment provider asks the player to approve the funds' transfer into their account.
Receive Winnings
After both the casino and the payment provider processed and approved your request, you'll receive your winnings into your account. Most eWallets, credit and debit cards tend to show instantly on your account. Some bank transfers might take a few hours or days to show in your account, but generally not longer than two business days.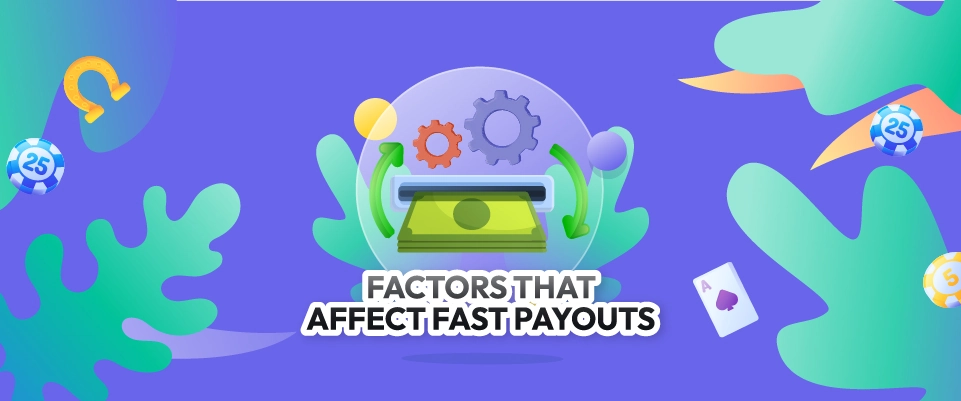 Factors that Affect Fast Payouts at an Online Casino
When you request a payout, some factors can further affect the speed of your withdrawal. To ensure you get the fastest possible withdrawal at Kiwi casino sites, check the following boxes before making a request.
The Fastest Online Casino Payout Banking Method
It's a fact that some payment methods just withdraw faster than others. To get the fastest payout, choose to withdraw your funds using debit and credit cards or eWallets. However, remember that you can usually only withdraw using methods you've deposited with, so start depositing with the fastest payout banking method from the start.
If you haven't completed your KYC process and verified your account, you can experience an exponentially longer withdrawal time than normal. To prevent this from happening, getting your account verified sooner rather than later is better. You'll need to submit the KYC documents to the support team.
These documents include a copy of your identification, proof of address and payment/banking, and other required documents. It takes around 72 hours to verify your account if nothing goes wrong. If the casino doubts some information, then they might request additional documents, including a selfie with the current date displayed, a video call, or any other method they require.
Meeting Withdrawal Requirements
To withdraw funds from your account, you must be sure that you completed all the withdrawal requirements. This includes wagering requirements, any bonus terms of an active bonus and that you have the applicable funds in your account. Many online casinos require your deposits to be wagered between 1x and 5x before you can withdraw them again, and bonuses usually have between 25x and 35x wagering requirements.
If the withdrawal requirements aren't met, then it could result in you either paying a transaction fee, having your bonus funds and winnings terminated, or the withdrawal request being rejected.
Fastest Payout Online Casinos Key Facts
New Zealand online casinos have an average payout speed of between one and five days, however, the fast payout casinos have an average payout speed of one and two days.

One of the fastest payout online casinos in New Zealand, PlayOJO, offers payouts within 12 hours, depending on the payment method.

Right behind PlayOJO, Dunder Casino offers instant processing times with payouts happening within 24 hours depending on the payment method.

New Zealand online casinos have an average return to player (RTP) of 96%.

At New Zealand online casinos, the highest RTP you can get is 99%, although it's not found frequently.

The most common sign-up bonus is 100% up to NZ$100 for New Zealand online casinos.

At New Zealand online casinos, the highest welcome bonus is often stacked deposit bonuses like a 250% bonus up to NZ$2500 split over your first four deposits.

At New Zealand online casinos, NZ$10 is generally the standard minimum deposit.

At New Zealand online casinos, NZ$100 is the highest minimum deposit recorded, though it's not often seen.

At New Zealand online casinos, NZ$20 is generally the standard minimum withdrawal, but it can be as high as NZ$100 at certain casinos.
Final Word on Fast Payout Casinos
Overall, if fast withdrawals are your main priority in online casinos then fast payout or instant payout casinos are the way to go when choosing an online casino. All of the casinos we have listed on this page are reputable, safe and licensed and provide withdrawals within hours. You can also make your withdrawals faster if you submit KYC documents at the very start.
Which online casino has the fastest withdrawal time?
LeoVegas and JackpotCity Casino process their withdrawal requests within a few hours and proceed to the payout. Players can expect their winnings within zero to five business days, depending on the payment method used.
What can cause my payout to be delayed?
If your account isn't verified, it can significantly delay the time it takes to process your withdrawal request. If you already have a pending request or haven't completed the bonus terms, your withdrawal request can also be delayed, as the casino's financial team first needs to check your withdrawal request.
How do processing times influence my payout?
Since processing times are not included in the withdrawal times, your withdrawal will happen later than expected. So if your processing time is 24 hours and your withdrawal time is two days, then it can take up to three days for you to receive your payout.
Which payment methods pay out the fastest?
Generally, eWallets pay out the fastest, as they pay out between 24 hours and three days. Cryptocurrencies are even faster, and they, at most, take up to 24 hours to pay out.
What is the average payout time for winnings?
The average payout time is generally between one and five days, although it can range depending on a few factors. The amount that you're withdrawing and the day that you place the withdrawal request has an influence on the time it takes to withdraw.
What is the minimum amount that can be withdrawn from the fastest payout online casino NZ?
It depends on the payment method used, as well as the casino's withdrawal limits, but the minimum withdrawal amount can range anything from between NZ$10 to NZ$100.
54 Articles

Wayne has been writing about iGaming news and sites for several years, with a particular focus on New Zealand casinos. His background includes being an English teacher, and a professionally-published writer/editor for over ten years.
More Articles From The Author