Rating Guidelines
BetKiwi is committed to providing only the best for our Kiwi players, with accurate and unbiased reviews for all things casino. We always keep strict rating guidelines when reviewing to ensure we provide Kiwis with factual and high-quality information.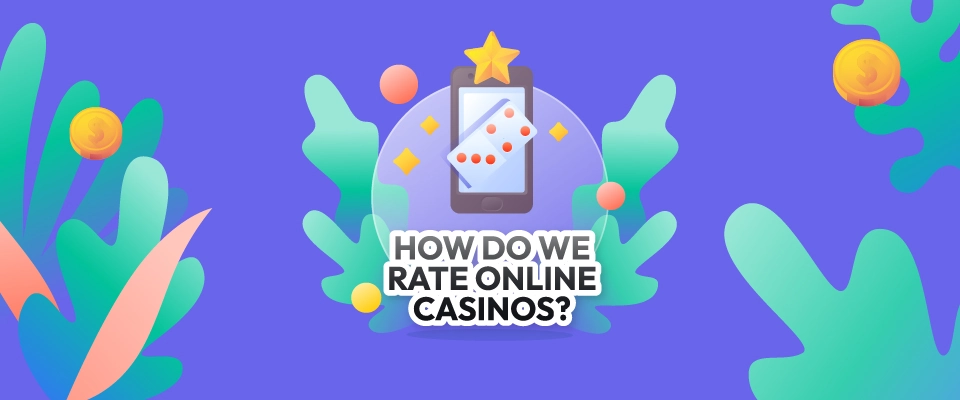 How Do We Rate Online Casinos?
It's essential to play at trusted and reputable online casinos, so BetKiwi ensures you access the latest information on New Zealand online casinos. We examine several factors to ensure we deliver detailed and honest reviews of gambling sites.
Licensing and Security
One of the most important aspects is that the online casino is licensed and regulated. The licence should be current and valid, with the licensing authority regulating the online casino for fair practices. A casino that fails to have an iGaming licence is not one to be trusted. The casino platform should also use SSL encryption and other security measures to protect players' data.
Game Selection
We look at the variety and number of games available on the platform. It should range from pokies to other casino games, with all your favourites offered. We also examine whether these casino games allow demo play and whether live dealer games and a sportsbook are available. We also consider whether there are any exclusive or branded games, and different versions of your favourite casino games.
Trusted Providers
The selection of providers listing their titles at the online casino is an excellent way to see the fairness of a casino. The more providers are listed, the more diverse titles you'll find and enjoy. It also means the top providers, like NetEnt, Microgaming, Yggdrasil, Play'n GO, and so forth, trust the site to offer their games.
Positive Player Reviews
While negative reviews will always be present, we look to see if the majority are positive reviews. A casino site that keeps its users happy is automatically more reliable than other sites.
Transparent Terms and Conditions
The terms and conditions of an online casino clearly indicate how fair their gaming practices are. The terms and conditions should clearly state all restrictions and rules the casino site enforces. Transparent terms and conditions ensure Kiwi players know what to expect from a casino site. It also means you won't unnecessarily lose your winnings due to obscure conditions that aren't explained adequately.
Payment Methods and Withdrawal Process
The available payment methods and withdrawal process say a lot about an online casino. We want multiple payment methods, from cards and e-wallets to bank transfers and cryptos. This gives you a better chance of using a convenient deposit and withdrawal method. We also look at the withdrawal times, fees charged and transaction limits when evaluating the payment options.
Account Registration and Verification
Registering as a new player should be a straightforward process, and we always check what is required from you. It shouldn't take longer than a few minutes and should allow you to play almost instantly. We look at what information the operator requires from you during the sign-up. We also look at how easy it is to verify your account, how long it takes and what you can do on the site before your account is verified.
Customer Service
Customer service is crucial, as this is your lifeline to the casino in case of any problems. We prefer it if the support is available 24/7, but the casino should indicate clear working times if it isn't. We consider what support channels are available, whether multilingual support is offered, and if the support is easily accessible. We also check whether the support agents are quick to respond, give efficient answers and have a friendly attitude.
Responsible Gaming
BetKiwi is committed to ensuring Kiwis have access to responsible gaming tools. We check which tools the operator offers and how easily players can use these tools. The responsible gaming tools we look for are personal limits, from daily, weekly and monthly deposit, loss and wager limits. We also look for session limits, reality checks, cool-off periods and self-exclusion.
User-friendly Interface
There's nothing more frustrating than trying to access a chaotic and poorly constructed casino site. We look at how appealing and attractive the casino site appears and how accessible it is on different devices. We consider what navigation elements are available, and whether Kiwis can find their favourite pokies and casino games without effort.
Promotions
Promotions and bonuses are a big part of online casinos, so we evaluate these offers extensively. We look at each offer, the terms and restrictions, and how easy they are to claim. We also consider the variety of bonuses available, from a welcome bonus and reload bonuses to cashback and VIP programs. These offers should boost the player's bankroll and make it attractive to continue playing on the site while offering fair terms.
Future Changes
The last thing we look at when reviewing online casinos is what future changes are expected. If the casino doesn't offer a live casino lobby, we look at whether that might be an option in the future. If the casino doesn't have social media or a live chat, we confirm whether it's an upcoming feature. This is crucial as it shows the casino is constantly striving to improve its platform for Kiwis.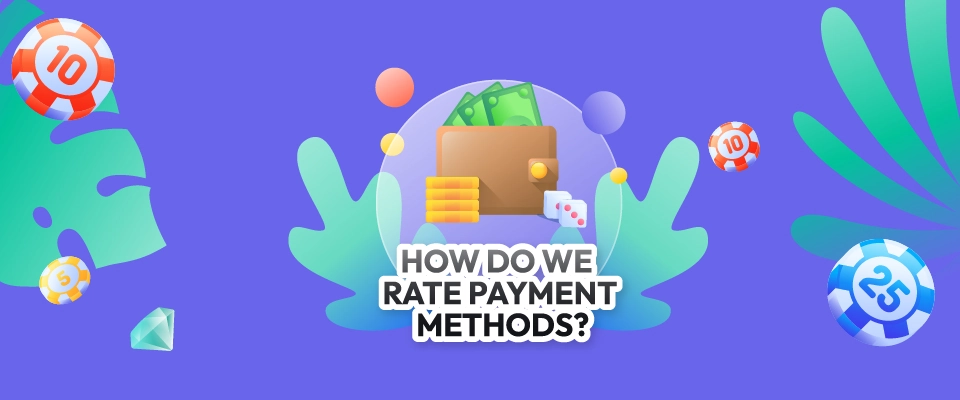 How Do We Rate Payment Methods?
The available payment methods are vital to know about before playing at an online casino. We look at the standard payment methods online casinos offer and what makes these payment methods worthwhile.
Availability
The first factor to consider is whether the method is available to New Zealand players. While many different methods are listed on most online casinos, payment methods are often restricted depending on the country.
Usefulness
The second aspect to consider is how useful the payment method is to players. This doesn't just refer to how easy it is to use the method but also whether it's available for both deposit and withdrawal. Often, online casinos state you need to withdraw using a method you've deposited with, so we consider whether this payment method is generally available for both options. We also consider any restriction on the method, like how Skrill and Neteller are often restricted from bonuses.
Transaction Limits and Fees
Different payment methods have different transaction limits, and we want to ensure players have the highest possible limits. The payment method should have a low minimum deposit and a high withdrawal amount, with low fees.
Withdrawal Speed
There's nothing worse than waiting around for days on end to receive your winnings. Taking into account the casino's processing speed, we also look at the general withdrawal speed of the payment method. Cryptos generally withdraw within 24 hours, while e-wallets take between one and three days. Cards can take between one and five days, while bank transfers usually take four to seven days.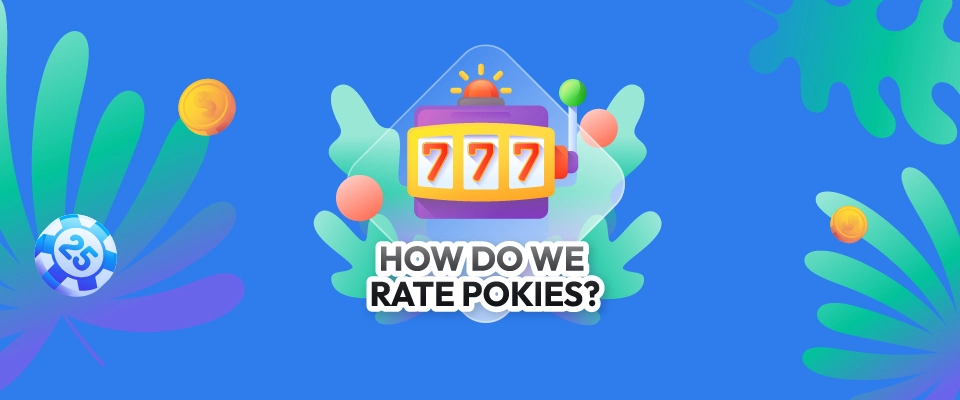 How Do We Rate Pokies?
Pokies are some of the most popular and fun games, with a massive global library available. We know new pokies are released all the time, so we ensure to provide a clear review of what to expect when spinning the reels.
Game Features
We consider whether there are any innovative game mechanisms to attract your attention, and if the bonus features are lucrative. . We also review how much the pokie offers you, whether there's a jackpot available, the paytable rewards, and whether there's more than one bonus feature.
Graphics and Sound
The graphics and sound often make or break a pokie. No matter how enjoyable the game mechanics are, if the graphics are of poor quality and the soundtrack bland, it often won't manage to hold a player's attention for long. With improved pokie technology, we expect excellent and fun graphics, with exciting music that fits the theme of the pokie.
RTP and Volatility
An RTP (Return to Player) percentage refers to the theoretical payout of the pokie or casino game tested over billions of spins. We look for a high RTP, with the average RTP around 96%. We also consider the game's volatility, with low volatility meaning frequent small wins and high volatility meaning infrequent, more significant wins.
Maximum Winnings
The maximum winnings of a pokie indicate how much you can win in one game and sets the tone for the pokie. We confirm whether the maximum win is a jackpot amount or the cumulative amount you can collect in one game. We look for pokies with a high maximum win when reviewing what the games offer players.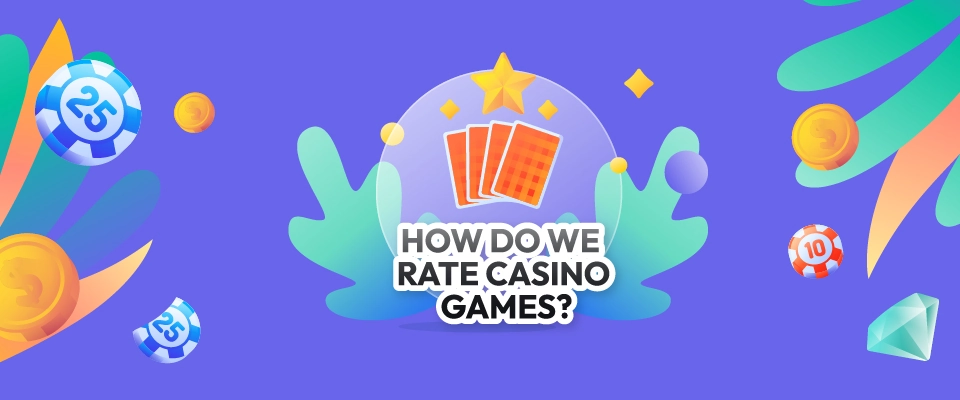 How Do We Rate Casino Games?
Whether you're a fan of poker, blackjack, roulette, baccarat or any other casino game, you should clearly understand the game's worth. We review the classic favourites and new variations to ensure you know what to expect.
Gameplay Difficulty
The first thing to consider is whether a game is challenging to play. Some games are more suited for experienced players, like poker variations. Other games, like roulette, can be enjoyed by both beginners and experienced players without much skill needed. We look at how complicated the game rules are, whether it's purely a game of chance or skill and whether new players can easily enjoy it.
House Edge
The house edge in casino games can vary depending on the game, the version and other factors. For example, American Roulette has a higher house edge than European Roulette due to the double zero slot on the wheel. We consider the house edge and what it means for Kiwis who play the game.
Online Availability
While there are hundreds of casino games and variations of those games available, they're not commonly available at all online casinos. A top casino game will often be found at most online casinos, showing how popular the game is with players. However, some games, like Teen Patti or the game show Dream Catcher, might not be as available as poker and blackjack. We consider how easily you can find the casino game at New Zealand online casinos and whether it's easy to access.
RTP and Live Dealer
Virtual casino games, like slots, use RNG (random number generators), which ensure fairness as no game will play the same way twice. We also examine whether a casino stocks average RTP (96%) and above average RTP (97%+) games, and what the house edge is for table games. If a site uses live dealers, we consider their professionalism and the availability of live titles.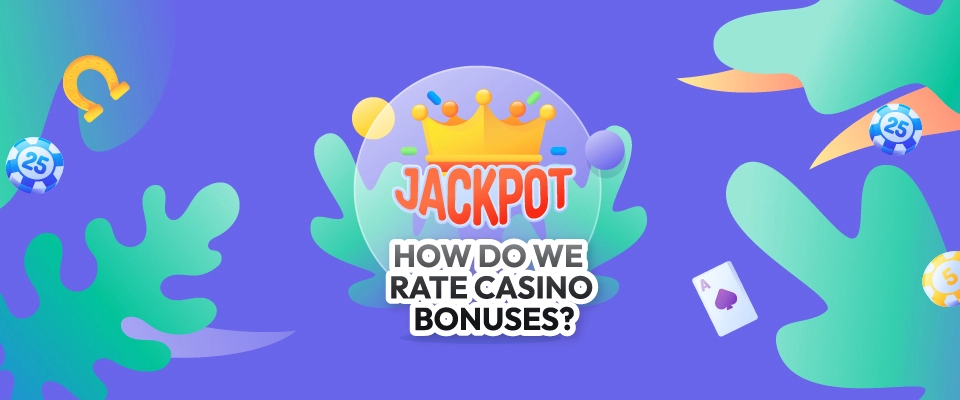 How Do We Rate Casino Bonuses?
Casino bonuses are the incentives online casinos use to attract new players and keep them invested in the casino site. While bonuses can look lucrative on the surface, there are many factors to consider to see whether the bonus is worthwhile.
Availability
We first consider when a bonus is available and how easily you can claim the offer. Some bonuses are available only once within a certain period, like welcome bonuses, while others are recurring offers, like reload bonuses. Some are available permanently, like VIP programs and cashback, and some are time-limited bonuses, like New Game free spins or Anniversary bonuses.
Bonus Offer
We next consider the actual offer and whether it's a good one for the purpose of the bonus. For example, a welcome bonus should make it easier for the player to start playing on the site. For this reason, it's often a matched deposit and some free spins to get the ball rolling. It'll often have a sizable maximum bonus and should look attractive to new players.
Minimum Deposit
All bonuses have a minimum deposit required to claim it. This can vary wildly, depending on the type of bonus. The minimum deposit shouldn't be too high (ideally around $10/$20), especially not in relation to the bonus amount offered. Some deposits also have payment restrictions, like how deposits via Neteller or Skrill are not valid for claiming a promotion.
Wagering Requirements
The wagering requirements are essential when evaluating a bonus, no matter how lucrative it might seem on the surface. Completing the bonus will be challenging if you get a massive bonus, but it has over 50x wagering requirements. We also check whether the wagering requirements are for the bonus, or the deposit and bonus combined. Lastly, we look at how long you have to complete the wagering requirement.
Other Bonus Terms
The last thing we look at is if there are any other bonus terms you need to keep in mind. This can range from how the bonus will be credited to your account, whether you need to use a promo code or when you can claim the bonus. It also means looking to see if there are capped winnings or a maximum bet amount while the bonus is active.
Why Rating Guidelines Are Important To Us
Rating Guidelines directly impact the structure, direction and tone of our reviews. These guidelines help maintain consistency across our website. They also ensure that our content is objective, comprehensive and reader-friendly.
Elements Of A Great Online Casino
If you don't know how online casinos work, then it won't be easy for you to notice flaws in one. To avoid joining a site and encountering multiple problems that make it hard for you to continue with it, find a good online casino.
This doesn't mean good casino sites don't have flaws: they do. However, they cover the six elements we've listed below fairly well.
Website Design
The website should be user-friendly. The information provided shouldn't be shown through clustered wording and pictures. Users must be able to find what they're looking for through a clear depiction of the features.
When you land on a casino site, you shouldn't be confused as to where you can find games, bonuses, live chat, terms and conditions, and available payment options. It must be transparent about the services it provides.
Of course, this information must be provided attractively. Good online casinos will use a standard casino design that's proven to work for most online casinos. Other, also good casinos, opt for an innovative website design that'll surprise players.
Whichever design a casino chooses, it must include these factors:
Fast in all the regions it's accessible in
The sign-in/ join/ register button must appear in more than one corner of the home page and it must be easily visible
A fast and easy registration process
Games should be easy to find and sorted by categories and game providers
Interactive widgets such as top winners on specific games and a real-time display of a growing jackpot
The site must have the same smooth experience on all the devices it's accessible on
For trust and reputation, ownership, licences and partnership must be shown on the home page
Various Games
This is the main reason you're looking for an online casino. So, the casino you finally decide to join must have quality games. How will you know that the long list of games it features are quality? Check the providers it partners with.
Industry giants like NetEnt and Play'n GO didn't coincidentally become big. They're consistent in providing high-quality and innovative games. If you find these and more, then you shouldn't stress much about the quality of the games featured.
A good casino for live games will also have software providers like Evolution Gaming and Playtech. For newer providers with fresh ideas, a good site will partner with providers like Pragmatic Play.
Most importantly, even if you're mainly there for pokies, a casino must have other options for players to try something different. Good online casinos feature slots, table games, live casino and lottery games.
Promotions
Promotions are an important part of an online casino. They give players a good start to exploring a site's games and playing without having to deposit more from their pocket. Online casinos usually have a hefty welcome offer, displayed on the homepage.
On top of the welcome offer, a good online casino will offer various promotions. These include cashback, free spins, no deposit, and deposit bonuses. In partnership with software companies, you'll also get to indulge in certain slots through tournaments which feature a huge prize pool.
Most casinos also feature a VIP program for the more loyal customers who've had enough patience to earn points and move up the tiered ladder.
A Variety of Payment Methods With Fast Withdrawals
Payment options are an essential element of an online casino. Let's face it, if you can't fund your casino account, you can't play for real. This is where various payment methods come in. There should be enough bank cards, e-wallets, and even crypto options for you to choose from.
The availability of many payment methods will allow you to choose one that works best for you. If for some reason you'd like to use a different one, there are other options to pick from. Some online casinos also include cryptocurrency payment methods.
Reliable Live Chat Support
Good online casinos offer support via phone, email, and live chat. However, live chat has become the most common because it's found right on the site. In good casinos, it pops up wherever you've navigated to in a casino.
With enough customer support staff to attend to your problems quickly, you should be directed to the right place for any issues. A good casino that is accessible in many countries should have live chat available 24/7.
Safe, Secure, and Legit
For the safety of your data and funds, join an online casino with the latest security technologies with encryption and a firewall in place. These can help prevent from being hacked and having your information and money stolen.
When you scroll down the site, you must find the casino's legal attributes to prove that it's legit. These include gambling authorities like the UK Gambling Commission, the Malta Gaming Authority, and the Great Britain Gambling Commission.
Licensed and regulated online casinos are good because they help in ensuring responsible gambling. They provide features like deposit and withdrawal limits. Also, you can contact customer support to set your limits.
Some good casinos allow you to set daily, weekly, and monthly limits during the registration process. They give you the option to take a break when you need to.