Rugby Betting Guide NZ
The game of rugby is one of the most exciting sports you can watch, either live or televised, with non-stop action and an often unpredictable outcome. Some would even argue that rugby is better than football (soccer) in terms of action and point-scoring rates, which is why rugby betting is prevalent in New Zealand.
Here at Betkiwi, we have designed the ultimate rugby betting guide for you to get started. It's jam-packed with useful rugby betting tips and tricks, along with key rugby betting markets and much more. If you're a total novice at betting on rugby or a die-hard rugby All Blacks fanatic looking to level up, this guide to betting on rugby is sure to be useful.
Did you know?
The top 10 rugby nations in the world today include:
New Zealand
South Africa
Australia
England
France
Ireland
Scotland
Wales
Argentina
Japan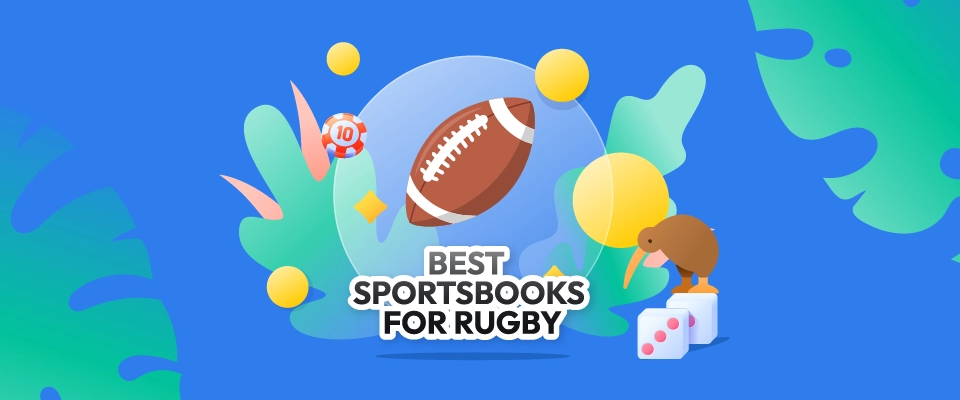 Best Sportsbooks For Rugby Betting in NZ
We've selected our Betkiwi recommended list of sportsbooks that are ideal for great rugby betting in 2023 based on international rugby coverage, sports betting bonuses and free bets, available markets and competitive odds, mobile rugby betting apps, safety and security, best payment options, early cashouts and many other features.
Check out these top sportsbooks for rugby betting in NZ:
How Rugby Betting Works
Essentially, rugby betting is about putting money on the outcome of a given rugby match based on the odds supplied by a bookie that offers betting options on rugby games. Once you've signed up with a reputable sportsbook, you can start exploring various rugby markets and fixtures.
The scope of rugby bets is wider than many other sports due to the nature and structure of rugby as a sport. Quite simply, betting on rugby involves selecting a game, seeing what betting options (markets) are available, choosing one (or more), seeing the odds, and then placing money on your desired outcome. Rugby is a highly eventful and popular sport, so you'll find plenty to bet on in various leagues and tournaments worldwide. This includes the likes of the Six Nations tournament, Rugby Sevens, the Rugby World Cup, and many others.
Did you know?
More than 400 million people across the globe are rugby fans
Rugby is played in 221 countries
There are over 10 million rugby players worldwide
Over 859 million people watched the 2010 Rugby World Cup
Rugby Odds Explained
Like any other sport you could bet on at a good sportsbook, every rugby betting market includes odds. Without odds, you would simply be unable to know whether or not a given market was worth your stake. The odds in rugby inform you how the bookmaker rates a certain bet's chances of success.
In addition, the odds in rugby competitions can help you decide whether to bet on the favourite to win or if you should take a chance on the underdog's ability to upset the apple cart, allowing you the potential for considerably higher profits. The odds in rugby also tell the bookmaker what your correct payout would be if you win your bet. They can be used to determine if the event proposed by the sportsbook can become a reality.
Expert advice from Wayne: Understanding that the odds given in a certain market or event won't be universal is important. In other words, odds depend on the nature of the market and what each sportsbook is willing to put out. This is why comparing odds is one of the top tips to use when selecting your sportsbook.
The main types of odds used for rugby are:
Decimal (2.00)
Fractional (2/1)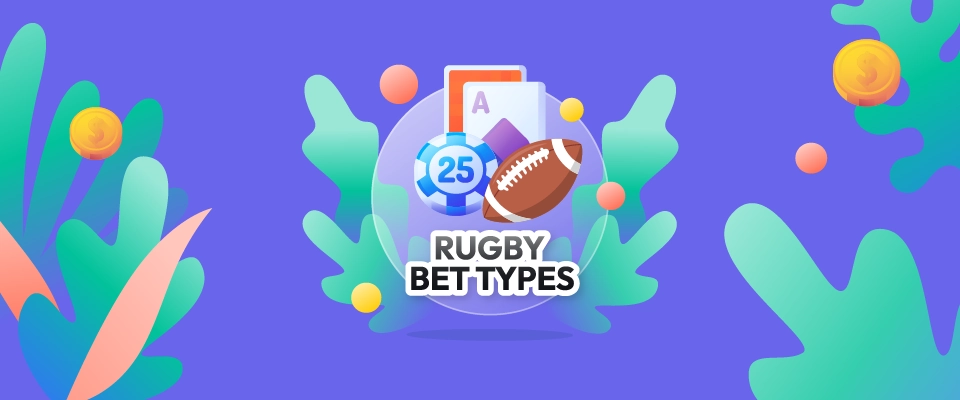 Types of Rugby Bets
Rugby is a vibrant and dynamic sport with plenty of action, movement, and strategic play. This makes for a fun sport that is never boring and offers a wide range of betting markets to suit all interests and preferences, from casual to serious or professional sports bettors.
The following types of rugby bet selections can be found at most of our recommended rugby sportsbooks for Kiwis:
Winner/Outright Bets
Outright bets, often called winner bets, are ideal for novice or casual bettors. Here, you're betting on who will win the game outright by predicting the winner of the match, thus being one of the betting tips rugby fans are usually offered when starting out.
Outright bets can also be expanded into tournament or series winner bets. In this instance, you're betting on which team will win the tournament rather than just the match. It's also worth noting that tournament betting can pick a match winner per game, which is not the same as picking the outright tournament winner.
Handicap Bet
Handicap markets are used to level the playing field between two unmatched teams. The sportsbook will add a handicap to the favourite in order to create more of a chance for the underdog to win. For example, in a match between the Crusaders and the Chiefs, you might see the Crusaders listed at -12.5 while the Chiefs are listed at +12.5. In this case, the Crusaders are handicapped, making it more of an even contest. If you bet on the Crusaders to win, they will need to win by a margin of 13 points for your bet to pay off.
Over/Under Bets
The Over/Under bet moves away from a final result market and introduces the variable bet. For an Over/Under bet to work, the bookmakers will need to post a line, and you will then have the opportunity to bet over or under the line. For example, let's say the sportsbook posts a line of 13.5, you can then bet that Team A will win by a total score over 13.5, or you can bet that the total points scored will be under 13.5. Over/Under bet lines always include a .5 in order to avoid a draw result.
Bet on Player
While many rugby betting markets are aimed at team performance, punters can also bet on any individual player within the team. Betting on the individual player offers some interesting betting markets and helps to add more excitement and interest to a match. Some examples of play bet markets include:
Player to score the most points
First player to score a try
Man of the Match
Player most tries scored in a match
First player to receive a yellow card
Bet on Team
Similar to the bet on player option, but now you're betting on the team performance as a whole. Examples here can include:
First team to score a try
Winning team margin
Winning team
Last try of the match
Wayne's take: Rugby betting is always exciting and dynamic, and posted markets will often be determined by the bookie based on how they assess the different teams involved in the coming match or tournament. Shopping around for the best markets at the best odds on the day is always a good idea for those looking for the best betting tips rugby has to offer.
How to Read Rugby Betting Lines
We want you to understand rugby betting lines are not the same as rugby odds. The betting lines in rugby will be either a handicap bet or an Over/Under bet. Handicap betting lines are very important, particularly in world rugby, where mismatched teams often compete against each other. You'll always see a stronger team get handicapped by certain points. When you see a negative (-) before the number, this tells you that the team is considered to be the favourite to win. On the other hand, if you see a positive (+) before the number, this indicates the underdog team in the match.
For example: Springboks (-35.5), Pumas (+35.5)
If you pick the Springboks to win, they must win by more than 35.5 points for your bet to win. By contrast, if you bet on the Pumas, they'll either need to win the game or lose by less than 35.5 points for your bet to win. The additional (.5) in both numbers is significant for two reasons. Firstly, bookies add the (.5) in order to avoid a draw or push situation. Secondly, you lose your bet if you bet on the Springboks to win and they win by 44. However, should they win by 45, you win your bet.
Similarly, Over/Under lines allow you to bet a result will be over or under a given number or total posted by the sportsbook before the match.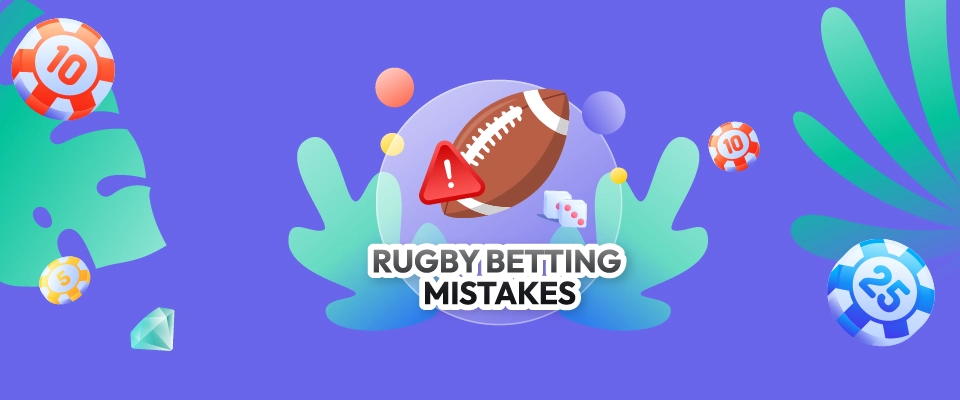 Most Common Rugby Betting Mistakes
Making common mistakes when betting on rugby is, unfortunately, part of the territory, and it's not just the domain of the novice or casual sports bettor; pro sports bettors have been known to make their fair share of 'rookie' mistakes. That said, we want you to be aware of the most common rugby betting mistakes and how to avoid them:
You Don't Know Enough About Rugby
This is a very common error, especially for those that are familiar with betting on other sports like cricket, basketball or table tennis. It's tempting to jump right in and think that you can figure things out as you go, but this is a risk and a mistake. Like all of the other sports you can bet on at a Betkiwi-recommended sportsbook, learning as much as possible can make you a much more successful rugby betting enthusiast.
Not Keeping Track of Player Injuries and Team Replacements
Rugby is a tough and rough sport with often high attrition rates compared to many other sports. What this boils down to is that rugby injuries are common both in training as well as during and after a match day. To make matters worse, the best players often sustain the most injuries. If a team is missing most of its star players, the chances of them doing well diminish significantly, which certainly would affect the outcome of any bets made on them. It's, therefore, beneficial to keep a close eye on who is injured, who is able to play, how long a key player will be out of action, and so forth.
Not Paying Close Attention to Team Form
Aside from noting when players are coming off the bench, it's also worth noting how teams typically perform under various circumstances. Some teams do better when playing to their home crowd, while others may suffer from low morale issues. All these factors play a significant role in what happens on the day. So check all of these factors carefully before placing any bets.
How To Place a Bet on Rugby
Select your betting site from Betkiwi's recommended list
Sign up with the sportsbook
Select your preferred payment method
Deposit some cash into your new account
Take advantage of the sportsbook's welcome offer
Click on the betting platform and click on the rugby tab
Select your match + odds
Click to add automatically to your betting slip
Money Management for Rugby Betting
We recommend that you know a little about effective money management as one of the vital rugby betting tips. Money management is knowing how much money you should place on your bet. There are a number of betting formulas and strategies on the net that you can use to help control and manage your spending when betting on rugby. However, it is generally recommended to bet no more than 1% of your bankroll as a conservative approach and no more than 5% of your total bankroll when betting more aggressively.
Different Types of Rugby Formats
Rugby Union
Most players or well-known rugby format
Dates back to the 19th century
6 million + players internationally
180,000 clubs
15 players per team
Eight substitutes
Major Rugby Union Tournaments:
Rugby World Cup
Super Rugby
United Rugby Championship (URC)
Six Nations
European Champions Cup
Rugby Championship
Rugby League
First played in 1895
Split from Rugby Football Union due to pay disputes
Most popular in Europe and Australia
13 players per team
First Rugby League World Cup Tournament 1954 (France)
Major Rugby League Tournaments:
National Rugby League (NRL)
Super League
Rugby Sevens
Fast-paced smaller version of Rugby Union
Also known as seven-a-side
Seven players per team
Shorter game consists of 2 x 7-minute halves
Popular in Asia, USA, Africa, Italy
First played in Scotland in the 1880s
Included in the 2016 Summer Olympics
Major Rugby Sevens Tournaments:
World Rugby Sevens Series
Hong Kong Sevens
Tips & Strategies For Rugby
Always shop for the best odds for your market or the match to get the edge needed
Take advantage of any free bets or rugby betting promotions for added value
Make good use of arbitrage betting (covering all markets of a specific bet)
Always research both teams (or all teams) ahead of the match and/or tournament.
Make good use of advice, predictions and inside tips from known rugby betting experts
Always bank the small wins
Summary About Rugby Betting
Whether you prefer Rugby Union odds, Rugby League, or Rugby Sevens, rugby competitions remain one of the most exciting and interesting sports to watch and bet on. If you're new to rugby betting we hope that our guide into betting on rugby will help make you the best rugby bettor you can be. Remember, the best place to start betting on rugby is by selecting one of our recommended rugby betting sportsbooks, taking your time when learning how bets work, taking advantage of some of the great sports betting promotions and always betting responsibly.
What are the most common rugby bets?
Among the most commonly-found rugby bets, winner/outright bets are perhaps the most common. Other common markets include Over/Under, Handicap bets, and props, including players and teams.
How do I choose a good rugby betting sportsbook?
There are a number of factors to consider when choosing a good rugby betting sportsbook. They should feature industry-recognised licensing, have a decent welcome bonus, employ the latest web security features, offer solid markets and odds, fast payouts, a good mobile betting app and more.
Does rugby betting offer early cashout?
This will depend on the rugby betting sportsbook that you choose to go with. The best way to know is to check for an early cashout symbol on their betting platform or simply ask their support team whether or not they offer early cashout on live or in-play rugby betting markets.
What is the most popular rugby format?
Rugby Union is the most popular rugby format in NZ. This is because it is also the most popular sport in the country. When enjoying rugby betting, looking at this game code is advisable.
What is the difference between rugby odds and rugby lines?
Rugby odds show how much you could win from a bet, whereas lines add an additional layer to the betting process by providing a handicap the favourite must overcome.
What does a +4 handicap mean?
This means the weaker or underdog team is given a better chance. Your bet will still win if the team does not lose four points or more.
Are there any rugby betting strategies that should be followed?
The best strategies and betting tips rugby bettors continue to follow include researching the latest news and stories, shopping around for the best value, and using a reputable sportsbook.
Other Sports Guides
Interested in other sports? Check out these guides:
5 Articles

Lucius Boehm, our sports expert at Betkiwi, is a University of Auckland graduate with a degree in Sport, Health and Physical Education. He's honed his expertise over 10 years in the gambling industry, earning a reputation as one of New Zealand's top sports gambling specialists. Lucius enjoys analyzing sports trends and playing rugby in his spare time.
More Articles From The Author