Esports Betting Guide
One of the fastest growing areas of New Zealand sportsbooks is esports betting. More and more markets have become available for bettors as esports games continue to thrive. For enthusiasts looking to get into this exciting arena, the Betkiwi experts have put together this comprehensive esports betting guide.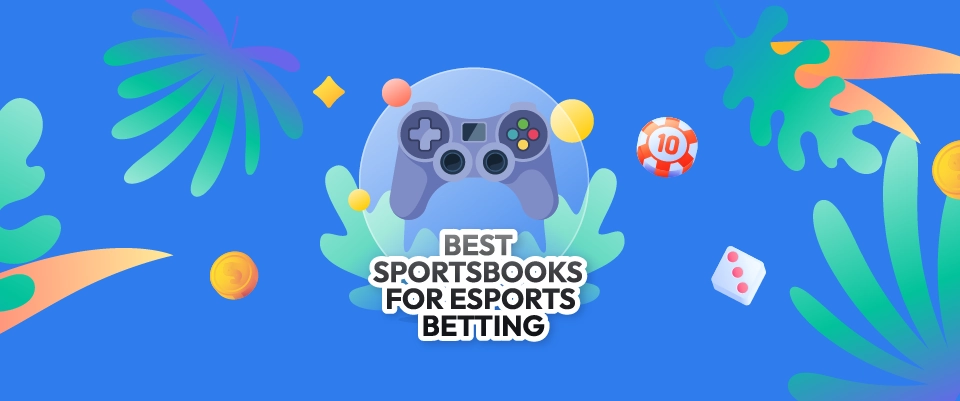 Best Sportsbooks For Esports Betting
Tremendous coverage of esports betting can be taken at New Zealand bookies. From the interest in events from closer to home, to big tournaments on the international scene including Europe, the US, Australia, and other countries like Ireland and Canada, punters can enjoy some competitive odds and bonuses like free bet credits.
We looked at everything, such as what payment methods from debit cards to e-wallets may be used by a bookie. We also studied the betting platform interface that users will have, any apps from esports bookmakers, and the fairness of odds. The quality of customer support, bonus offers, and other main services of a bookmaker business have also been sized up.
There is usually an array of methods for payments available including Visa, Mastercard, credit cards, Neteller, Paypal, bank transfers, Skrill, and Paysafecard. For cryptocurrencies like Bitcoin and Ethereum, it is worth checking with the customer service of the company first for crypto accessibility.
Here are some of the best esports betting sites to check out:
24/7 Live Chat

Mobile Casino

Sportsbook
Wager 5 mBTC
+ Get 0.5mBTC in Free Chips
Great mobile app

Live Chat

Sportsbook
Bonus Up To 100%
+ NZ$100
Live Chat

Fast payouts

Sportsbook
How Esports Betting Works
What is esports betting? Betting on esports is making wagers on the outcome of video games played by the world's leading gamers. You place a stake on a particular outcome and then wait to see if your prediction is correct.
The skill is targeting value in esports betting on a title like Counter-Strike: Global Offensive. A bookie sets lines for not only the outcome of matches but for many other aspects of a contest like maps and the correct scores. But where do the odds that you see for an esports match come from?
Did You Know? Popular title League of Legends was released in New Zealand in 2009, cited as the beginning of esports in the country.
Esports Odds Explained
Esports odds follow the same track as markets for traditional sporting events. The odds are linked to the probability of an outcome, whether that is the winner of a match or the correct score.
Short odds on an outcome means that betting sites for esports think that there is a high probability of it happening. Some punters will have a preference for favourites, while others may be happy to dabble in underdog options, those which have longer odds because they are less likely to win.
As with all types of gambling, esports betting is a balance. It's trying to find the sweet spot of value and probability, which is where risk assessment comes in. Understanding odds is crucial for esports betting, as it is going to help you spot those best-value opportunities.
There are three commonly used ways that odds are expressed in esports betting:
Decimal Odds
Decimal odds are easy to read and to see potential returns from. Odds such as 3.0 means that that is what you will get back for every unit of stake placed. So if it is a $10 stake placed, it's $10×3.0 = $30 return, $20 of which is profit and the other $10 the original stake.
Fractional Odds
The fractional expression of odds is mostly used in the UK and less so in NZ esports betting. This is where you will see quotes like 4/1, 11/8, and 5/2. The first number (the numerator) is the amount of profit that you get, while the denominator represents the stake. So in 5/2 fractional odds, you would profit $5 for every $2 staked. The return of stake isn't factored into the odds.
Moneyline Odds
Moneyline odds are common in the North American industry, expressed in positive or negative numbers. Examples are quotes like -200 and +180. A negative represents the favourite and tells you how much you would have to stake to win $100. A positive number tells you how much you would win from a $100 stake.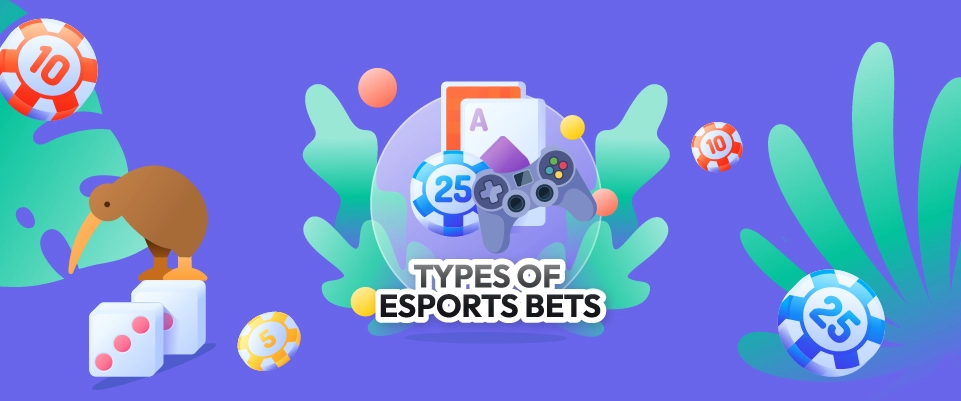 Types of Esports Bets
More and more types of esports bets have now come onto the scene. Dip into any of our recommended sportsbooks for betting on esports and you will find a nice blend of wagering options like the following ones:
Match Winner
The match winner bet is a great one for newcomers to esports betting, but it also remains a challenging one for more experienced punters. The pick on a match winner is simply a selection of which team or player will win a fixture. The bigger variation is a win on a tournament or series winner.
Handicap Bet
The handicap bet on esports comes into play for punters looking to pull a little more value in contrast to the match outright. Sometimes there is not much value in an esports outright market, especially when there is a favourite taking on an underdog. The handicap market will level out the market by setting conditions to balance the difference in the strength of the teams. A condition like a -1.5 handicap on maps in betting esports means a team or player would have to win a match by two clear rounds.
Over/Under Totals
A popular form of bet in many sports, over/under (or totals) can be found on esports markets. It could equate to an over/under selection on the number of kills players score in first-person shooters, or how many rounds of action get played in a match.
Map Winner
This is one of the most popular types of bets for esports. A bet on this pertains just to a selected option, like Map 1 in LoL esports betting. With that, the decision is to pick the option of a team or player to win the specific map of choice, and the overall match result doesn't factor into it.
First Blood
This is a newer type of wager for betting on esports, similar to taking a First Goalscorer option in soccer betting. This bet type focuses on which team or player gets the first kill in a match. A variation of the First Blood options is a race, like First To 10 Kills.
Live In-Play Betting
Live in-play betting has become increasingly popular, giving punters in New Zealand further esports betting action.
Map options, handicaps, and overall match winner markets can be found. Part of the big growth of esports betting has been due to live streams of leagues and competitions that some bookmakers provide for their customers.
Getting into streaming is great for spectators, in addition to the live in-play markets, as viewers and fans can make picks on the fly.
Accumulator Bets
There's usually a big range of matches happening on a given day. So accumulators and other types of multi-bets can come into play for esports betting as well. This could be from something like the winner of four different Valorant matches. All legs of an accumulator (also known as a parlay) have to win for the bet to be successful.
Did You Know? In 2023, the Gamers8 event The Land of Heroes featured a $45 million prize pool, the largest ever in esports.
Most Common Esports Betting Mistakes
Betting can take a while to get the swing of. It's common for novice bettors to make mistakes as they work their way to fully understanding the markets. Here, our esports betting expert Lucius makes a list of some of the most common errors that punters make:
Betting On Short Matches
Esports matches which may feature just one map are worth taking a pass on because of the increased randomness of the result. Think of a tennis match where a top-seeded player loses the first set, but has plenty of opportunity to come back and assert their authority. The cream usually rises to the top and the longer matches are, the better the chance a favourite has of winning.
Missing Key News
A mistake that some bettors make is not giving enough attention to a team's roster. Players make changes between teams. Players on a team get to trust each other over time, through strong communication and tactics. If a team loses a star player to another rival team, then that creates a big shake-up, weakening the team, and it's crucial information not to miss.
Betting For Betting Sake
Just because there are five Dota 2 matches being played on one night, doesn't mean that you have to bet on all of them. Punters can get easily swept up in betting for the sake of betting because they see esports fixtures being listed. The advice from Lucius is to only bet on matches featuring teams you know well. Become a specialist in a couple of teams and focus all betting on those, instead of taking a more scattergun approach.
Not Cashing Out
The cashout feature gives punters a great deal of control. This is when the bookmaker will offer a price to settle a bet early. Maybe you have backed a team that is narrowly winning a match and for a sacrifice of original odds, the bet could be settled early, meaning that you avoid the risk of any turnaround in fortunes by the end of the fixture. It is a value not to be missed.
Being Tempted By Accas
Accumulators are such high-risk bets. However, punters, especially newcomers, tend to overlook some of the risks because of the big cumulative odds that are amassed in an accumulator. It's generally worth sticking to less complex, lower-risk options.
How To Place A Bet On Esports
Esports betting should be an enjoyable experience at a betting site. Punters have a stack of choice between pre-match and in-play betting markets and bets can be as complex or as simple as you want them to be.
But at the core of it all, are a few common steps that you have to go through to place bets.
Visit any of our best esports betting sites from this page
Sign up for an account registration with one or more of them
Review any welcome or deposit bonus terms and restrictions
Add a payment method and make at least the min deposit amount
Browse through the sportsbook section to find esports
Select a game like CS: GO, Overwatch, or League of Legends
Find an esports event
Make a selection of odds for an outcome
Add a stake to the bet slip and place the wager
Money Management for Esports Betting
Responsible gambling should be a high priority for all players. It can be easy to forget that real money deposited from payment options like a debit card is involved. That's because you are just looking at numbers on a computer or a phone, so there is a sense of detachment. But the funds that you put into the sportsbook account are real money and it should be budgeted.
One of the biggest risks of betting comes from chasing losses. Every punter will go through a losing streak at some point as luck just seems to run out. This can be stressful. It's natural to want to snap a streak, and as punters get more desperate to do just that, they start risking more by taking chances on longer odds prices to try and make up for losses.
This is where budgeting your dollars helps a tremendous amount. It sets guidelines for your wagering. Whatever your set bankroll is for the month, only use between 1-3% of that total for each bet that is played. That keeps things nice and controlled, without dipping into your account funds to arbitrarily place dozens of unplanned bets.
Did You Know? The first esports tournament was in 1972, called the "Intergalactic Spacewar Olympics", which featured 24 players.
Popular Esports Teams & Players
Find a working process to keep up to date with the latest teams and players for esports. Some players are more skilled than others, which will, of course, get more headline attention. The stronger teams should attract more of your attention for betting.
There is a surprising amount of prize money involved in esports tournaments. Some esports titles like CS: GO, Starcraft, Fortnite, and Call of Duty payout more than others. The hugely successful FaZe Clan for example has a huge roster which competes in Call of Duty, Overwatch, and PUBG and therefore can take large shares of a prize pool.
G2 esports, Gaimin Gladiators, New York Subliners, and Team Liquid are among some of the other major teams in the esports world of leagues and competition.
Start becoming familiar with the names of the main characters on a team like Kismet, HyDra, rain, karrigan, Twistzz, and more, through research and viewership of esports events on Youtube, Twitch, or streaming resources provided by bookies.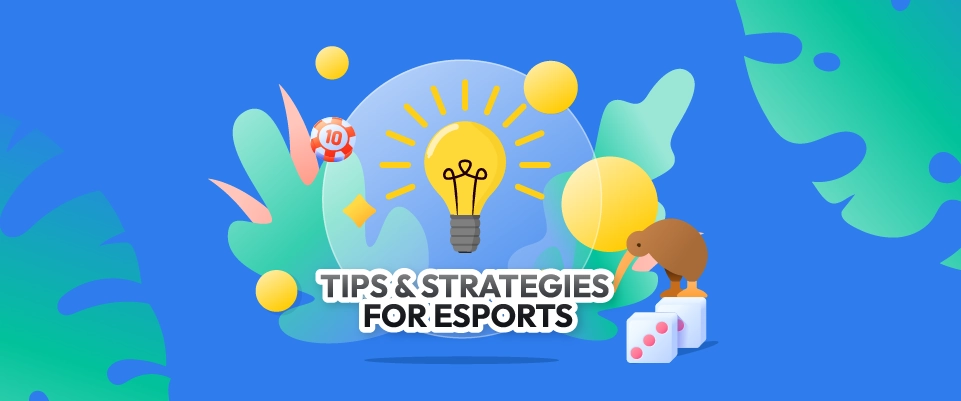 Tips & Strategies For Esports
It is a fact that there are no guarantees with any sports betting, whether that's horse racing or esports contests. But there are ways that punters can try and strengthen their picks for success. Using tips and strategies can put you in a much stronger position in the long term. Here are some of our free tips for esports betting from our expert Lucius.
Watch Live Streams
A lot of live-streaming content for esports is available on mobile devices. Operators provide a lot of it, and punters, as well as esports fans, can benefit from watching those streams of competitors in action during a round of play. It could be watching the first few minutes of an Overwatch match before deciding which team looks sharper to place a match-winner bet on.
Odds Comparison
Once you have settled on a bet that you want to make, don't just jump on the first odds that you see. Take a step back and do an odds comparison. Even though you are only likely to see small differences between betting odds at different sportsbooks, every little extra margin that you take can add up to a lot over time.
Research and Analysis
All the esports betting picks that you make need to be based on research and analysis. Cold hard data from the results of previous gameplay is arguably the best friend that you have for betting. The deeper you can get into the stats, the clearer the bet that you make is going to be. Find some good esports stats sites, news sites, and any sources that provide tips. Every bit of information adds up to a bigger picture to put you in a more advantageous position.
Value Bets
A good area of NZ esports betting to understand is value bets. This is where you first assess the probability of an outcome happening. When you check against the odds that a bookmaker has set for that pick, if they are longer than what you expect them to be, then you have a value bet situation. It's where a bookmaker, in your opinion, may have undervalued an option.
Self-Analysis
Track all the bets that you have made in a spreadsheet. Keep a note of what you bet on, the stake, odds, and results. That way you can look back and see what has been working for you, and what hasn't. You can use all that information to tweak your future betting plans and help you spot the options that are in line with what is working.
Summary About Esports Betting
Esports betting is one of the newer phenomenons of online wagering. There are ways that you can set yourself up well, especially by using the information and tips that have been laid out in this esports betting guide.
Things like finding good sources of stats, tips, news, and results, plus using online betting calculators can get you ahead of the game. As with all types of wagering, it's about building the skill and knowledge to get the best out of the experience.
FAQs About Esports Betting
Here are some of the most frequently asked questions that we here at Betkiwi come across.
What are popular games for esports betting?
Among some of the most popular games for esports betting are CS: GO, Overwatch, Fortnite, League of Legends, PUBG, Call of Duty, Rocket League, and FIFA esports betting.
What does +1.5 mean in esports betting?
This is a handicap market on something like the number of Maps that are going to be played in a match of Valorant esports betting. The handicap is over/under a certain line on a tally of something.
It is competitive professional video gaming, with esport matches played between individuals or teams.
What is the most bet on title in esports?
CS: Go is easily one of the biggest games that attract esports betting, and there are some major global tournaments for it.
Yes, there are betting markets that can be found for electronic sports games. NBA basketball and FIFA esports betting are very popular.
Can you bet on live games in esports betting?
Yes, there are a lot of esports live betting markets available on things like Map Winner, Handicaps, and Match Outright.
How are esports betting odds calculated?
The bookmaker assesses a match and then determines the probability of an outcome happening. The probability they land on is then reflected in the odds.
Other Sports Betting Guides
Interested in other sport guides? Check out our sports betting guides!
5 Articles

Lucius Boehm, our sports expert at Betkiwi, is a University of Auckland graduate with a degree in Sport, Health and Physical Education. He's honed his expertise over 10 years in the gambling industry, earning a reputation as one of New Zealand's top sports gambling specialists. Lucius enjoys analyzing sports trends and playing rugby in his spare time.
More Articles From The Author