Are Online Casinos Rigged?
Casinos can be a lot of fun. However, when you're gambling, you need to have your wits about you in more ways than one. Operations with customers in New Zealand and in countries all over the world deal with millions of dollars in transactions every day. It's one of the reasons that they need to be held to high security standards.
Although scammers are out there, it's possible to be safe when playing at online casinos. You need to be aware and know what measures to take.
Can Casinos Be Trusted?
Upon joining a casino a lot of people have various questions – are online casinos rigged? Can online casinos be trusted? The truth is that not every casino has honorable intentions and even those that do can fall foul of immoral or unreasonable practices. Moreover, casinos are also responsible for preventing outside influences, such as fraud and players acting as scammers.
Where does that leave you? We recommend trusting casinos, but not blindly. There are certain measures that should be in place to show that a casino is properly licensed and regulated and to prove that it takes security seriously. They include a licence from a reputable gaming body, encryption protocols in place and clear policies on privacy, security, responsible gambling and general terms.
On the flip side, there are red flags, which indicate that you should be wary or that a casino can't be trusted. Reputation is crucial in the casino industry.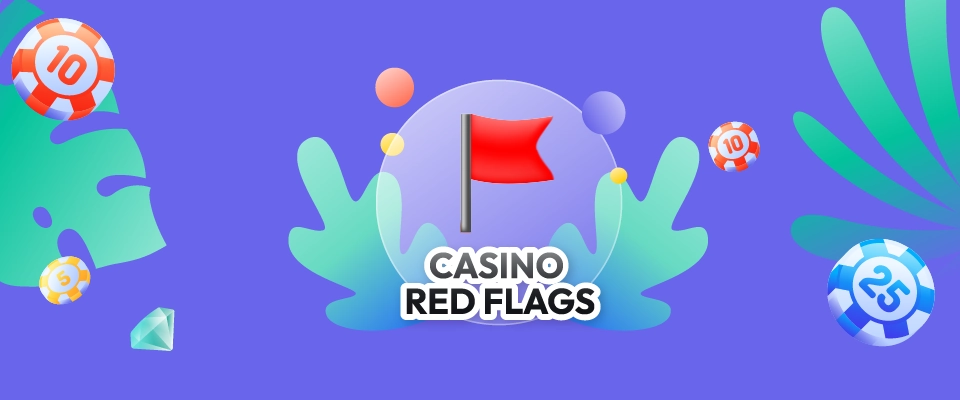 Casino Red Flags
Reviews are the starting point. It's worth exploring the site a bit on your own to see how it looks on your desktop or mobile browser to see if it suits you. While you're doing that, you can perform a few quick checks for red flags. As soon as you spot one or two, you can investigate further. Once confirmed, you should heed the red flags and avoid that casino.
We've divided the red flags into two categories. Sometimes a casino lacks the proper information or structure, which is a red flag for us. On the other hand, sometimes casinos provide evidence of their unreasonable or suspect approach with the wording in their terms and in other ways.
What's Missing
When a casino site is missing crucial information, it's a red flag. They could be hiding something or be poorly organised, which are both reasons to avoid a site.
Licence Information
As we've said before, licences are one of the best ways to establish whether a casino is operating legally. Many licensing bodies also act as regulators, which means they check for fair practices. Every licensed casino should provide information about its licence in its website footer. If it's missing or incomplete, it's a red flag.
Instead of just saying that it has a licence, the casino should provide details, which could include the licensing body, the name of the company that operates the casino and obtained the licence and the licence number. In some cases, you'll find a logo and a link to the licensing body's site that verifies an active licence.
Customer Support Options and Complaints Procedure
Even when playing at the best online casinos, things can go wrong. What's crucial is that there's a way to resolve the issue. It's an immediate red flag if a casino doesn't have a way of reaching out for support. Live chat and phone options are the most immediate but even email support, as long as they actually respond, works to address queries and problems.
At BetKiwi, we check for casinos that have customer support options, a clear FAQs page and a complaints procedure. This is our gold standard. It's a red flag if a casino lacks a complaints procedure and has a history of not addressing customer issues.
Trustworthy casinos have separate email addresses for complaints. Their procedures set out how quickly they'll respond to the complaint and how the issue will be escalated if it can't be resolved. The process often involves including an independent dispute resolution service to ensure a fair outcome.
Security
Your browser will usually notify you if you're heading to a site where your data isn't protected. If that happens when visiting a casino site, it's a red flag. Since you'll be entering your personal details and depositing funds, you should only do so at a site with the latest encryption technologies in place to protect you. If you don't see the padlock symbol in the address bar, steer clear.
What Shouldn't Be There
Sometimes it's something that our experts read on the casino site that raises the red flag.
Unclear or Unreasonable Terms and Conditions
You should know where you stand after checking the terms and conditions. The bonus terms, in particular, should clearly set out how to claim, what you get and the rules for using the reward.
Minimum deposits, maximum caps for bets, expiry dates, wagering requirements and excluded payment methods and games should all be listed and be reasonable. It's a red flag if the casino informs you about those aspects afterwards or buries crucial information in small print that's incredibly hard to find.
An Irresponsible Approach to Gambling
In most locations, the industry is heavily regulated when it comes to advertising gambling and the language used. In New Zealand, you won't see casino ads on television or in other locations. It's not allowed to publish overseas gambling platform advertisements.
Once you reach a casino, it's allowed to promote its offers. However, they shouldn't be worded or designed in a way to encourage you to bet in an irresponsible way. Targeting content at minors, not advising you to only gamble what you can afford to lose and talking of gambling as a way to supplement your income are all red flags. Reputable and licensed sites will also often have responsible gambling tools, such as deposit limits and time limits, as well as information on how to contact problem gambling organisations.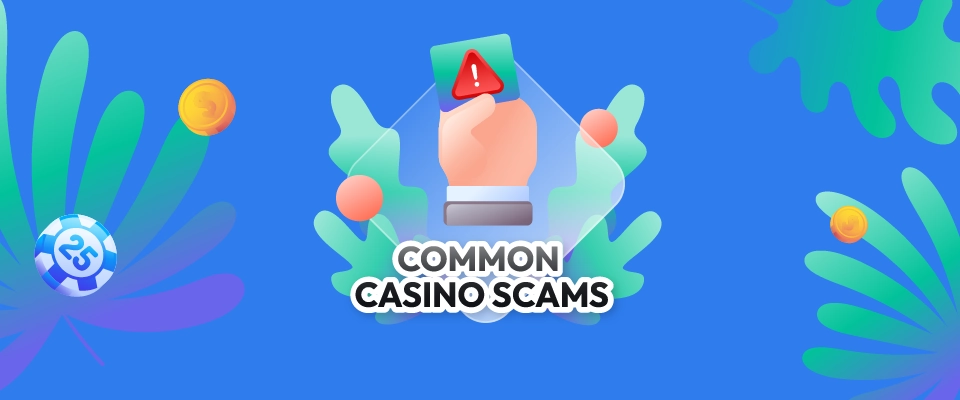 Most Common Casino Scams
A casino scam can come from the casino itself, from criminals using the casino as a way to reach you and other players to get important information. It's essential to understand the most common scams, where they come from, how they operate and how to protect yourself from being a victim of one.
Phishing
A phishing scam is usually carried out by email, although you could receive a message online, such as via social media or a fake live chat application. In this case, a criminal is pretending to be the casino to obtain information. They might ask for your login details, including your password. Phishing schemes could also request financial information and personal details as a route to identity theft.
Another approach that phishing schemes take is to send you to a fake website. When you enter your credentials, it captures and steals the information. If it's offering a bonus, the scam could include deposit theft, as the money you deposit at the fake site doesn't go into your casino account.
Player Collusion
This type of scam is often more common in poker rooms and in land-based casinos, but can still occur online. It happens when players work together to try to make money from other players or to influence results in some way.
It can involve communicating when playing a game, such as sharing information about their cards, to give themselves an advantage over another player or players. It typically happens in a multiplayer game or a tournament. Players might find loopholes or apply a betting system that gets them better results in the long run. It's the casino's responsibility to investigate suspicious activity and enforce clear betting rules.
Rigged Games
When you play blackjack, roulette or pokies, you're relying on the outcome to be fair. Reputable casinos partner with software providers that are well known in the casino industry, such as Microgaming, NetEnt and Pragmatic Play. These slots and table games are tested for fairness and use technology, such as random number generators, to ensure results that aren't manipulated.
However, there could be rigged online casinos using software that can be manipulated. The games are rigged in the casino's favour. It means that the outcomes are changed to increase the casino's takings and decrease payouts to the player.
Not Paying Out
Another potential way for online casinos to scam players is to take their deposits and let them play, but never pay them their winnings. These cases can range from the extreme end of the spectrum, where a casino sets up shop for a while but without the proper funds or structure in place to pay customers. They might even set up with the intention of collecting funds and then disappearing.
At the other end of the spectrum, there are casinos operating within the law most of the time. They might deliver payouts to most customers but occasionally will set up barriers to paying out large sums. This practice can include finding reasons to shut players' accounts and claim funds.
Delayed Payments
Not every casino pays out instantly, but there should be a reasonable timeframe, and the operator should share that with you. Delayed payments are one of the most subtle casino scams. It's often more of an unethical approach than an illegal one.
A delay is a scam because the casino would be purposefully slowing down processes so that the player will gamble their money instead of withdrawing it. A long approval time, long verification periods and other unexplained delays are all forms of a scam. It means the casino will keep the money and profit rather than transferring it into the player's account.
Impossible or Unreasonable Terms
Unreasonable terms can be used to trip players up. It could lead to confiscated deposits and a casino not paying out because of a complicated technicality. Unreasonable terms and casino scams are often linked to bonuses.
In this scenario, a casino will advertise an enticing amount, but then make it almost impossible for a player to benefit. Some examples include excluding most of the games on the site from bonus play, incredibly high wagering requirements or very short expiry periods. Casinos should make this information obvious, so it's up to you to avoid unfair promotions. If you can't see the terms, it's a red flag.
Risk of Malware
Everyone who uses the internet could experience malware on their device. It's not unique to people playing casino games or those who access sports betting. However, it's important to note that malware is likely to come from a site or app that you already use.
Malware is a term that covers several forms of viruses or harmful software that can affect your computer or another device. It can be embedded in an app download, emails or attachments. Pop-ups or links sent in a chat can also install malware once you click on them.
Victims could experience different issues, depending on the type of malware used.
Ransomware gives hackers control of your device. They can lock your files or freeze your computer and ask you to pay a ransom to release them.
Spyware creates a backdoor to your device. It means an outside party can access your files. Alternatively, it might include the installation of a keylogger. The criminals harvest data that you input on your keyboard. It could be your bank credentials, credit card details, PayPal login and more.
Did you know? Some malware can disguise itself as legitimate software. Known as a Trojan, this malware relies on you to install it, since you think it's trustworthy. After that, hackers use it as a doorway to your device for various criminal purposes, including spreading malware to your network.
What To Do If You Encounter an Online Casino Scam
How you respond to an online casino scam depends on the source of the problem. For example, in certain circumstances, you should report the issue to the casino.
If a scammer has sent you an email pretending to be the casino, you should inform the casino and, if asked, provide them with a copy of the email. You can also move the email to the spam folder and inform your email provider, which often has a button for reporting spam.
If someone approaches you via the casino site in a suspicious way or you suspect players of colluding, reach out to customer support. Gambling sites have a responsibility to address the issue. It's helpful to log names and dates of times and provide them when you report the issue.
If the casino is at fault, try to address the issue through the proper channels first. If payments are delayed, keep a record of the amounts, methods and date of request. If your issue isn't addressed, follow the complaints procedure. If dealing directly with the casino doesn't work, you could address a complaint to the licensing body.
In the case of unreasonable terms or rigged games, it's best to avoid the casino altogether. You can make a complaint or inform the licensing body of your experience.
Did you know? You can report spam communications that are part of a scam to the Department of Internal Affairs. Forward emails to [email protected] or texts to 7726. You can also report incidents to Netsafe, who can provide advice, or the police, as appropriate.
How To Spot and Avoid Rigged Online Casinos and Scams
It's not always possible to spot a scam before the damage is done. However, if you're armed with the knowledge of what scams look like, then you can take steps to protect yourself. There are usually a few subtle signs, depending on the scheme.
For phishing, it helps to do your due diligence for any communication you receive. Can you verify the sender? Look at the email address, the language used and how you're addressed. If possible, compare it to other messages from the casino. You might spot a strange email address, unprofessional language or grammatical errors that give away the sender as fraudulent.
If you're being told to change your password, claim a bonus or make a deposit by clicking a link, try performing the same action by visiting the casino via your usual method. You can also reach out to support to verify if a message is genuine. If you see pop-ups or get suspicious email attachments that could contain malware, check the information before clicking anywhere.
Other scams are challenging to spot until they're happening to you, which might mean it's already too late. In this case, the best way to protect yourself is to only use reputable and licensed casino operators.
Signs Of Rigged Online Casinos
Lack of licensing
Lack of Third Party Audits
Negative Online Reviews
Absence of RNG Certification
Unrealistic Bonuses & Promotions
Requests for Excessive Personal Information
Staying Safe Online
It's not necessary to stay off the internet or even stay away from casinos. The risks are out there, but half the battle is knowing what to look out for, so you can stay safe. You can decrease the risk of getting scammed by reading our reviews, doing your own due diligence and choosing licensed and legitimate operators.
Scams come in various formats. Though some come directly from the casinos, others are down to players and criminals using the site to deploy their schemes. You can stay safe at casinos with the knowledge our BetKiwi experts have shared with you on how to spot scams.
It also helps to use general internet safety techniques, such as never opening messages or clicking links from sources you don't trust or aren't verified. Using security measures, such as anti-virus software and two-factor authentication to log in to your accounts, adds an extra layer of protection.
FAQs about Casino Scams
We answer common questions from New Zealand players about casino scams and safety.
A gambling scam is any scheme that occurs at a casino or in connection with a casino that attempts to cheat the player. It can involve criminal acts, such as identity theft, as well as misleading players about deposit bonuses.
Can players scam casinos?
Yes, scams can happen the other way around. Players can try to abuse bonuses or act in ways that are against the rules. Casinos will have the right to close player accounts, ban them, or to take other appropriate actions.
Are all casino games a scam?
No, at licensed online casinos they will use a random number generator that ensures fairness in that every outcome is random. Also, many reputable online casinos will show that they use independent testing agencies to ensure fair play. Before you play, it's helpful to understand that casino games are designed for fun. However, they're part of a business, which means they need to make the casino money.
Will I be safe playing at a licensed casino?
Yes, playing at a licensed casino is a good way to stay safe. It isn't foolproof, though. You'll need to read the terms and conditions, withdrawal times and casino rules to know where you stand. If this information isn't clear, contact customer support or find a new place to play.
What's the most dangerous casino scam?
Phishing is probably one of the most prevalent and harmful scams. Since an email can seem like a genuine message from the casino, many people click links or enter details. It puts your device, identity and financial information at risk.
54 Articles

Wayne has been writing about iGaming news and sites for several years, with a particular focus on New Zealand casinos. His background includes being an English teacher, and a professionally-published writer/editor for over ten years.
More Articles From The Author