Biggest Gambling Losses in Casinos
What's the most you've lost playing casino games? However much that is, let's hope it doesn't amount to anything near to the seven biggest gambling losses we've listed below. You always need to remember the gambling golden rule in never gamble with more than you can afford to lose.
Some people have learned the hard way that "the casino always wins" and that problem gambling exists. Casino games are exciting, as they should be because they're for entertainment purposes. However, you shouldn't get carried away to the point of placing bets that you can't afford to lose.
The list we've compiled below is on people who lost massive amounts of money playing in casinos. Some names are big ballers who could afford to lose and others simply lost it all.
So, before you enter a casino and place a huge bet thinking that it's the trick to the biggest win, read the stories below.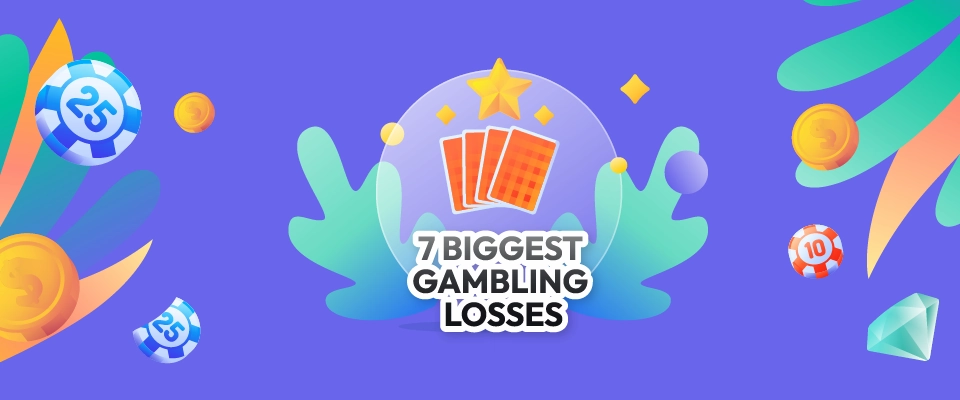 7 Biggest Gambling Losses in Casinos
These aren't all the biggest gambling losses that happened, as there are plenty. We've chosen and listed some of the most interesting. Surely every casino has one or more stories about players who lost huge amounts of money.
Some of these players have lost these enormous amounts more than once and for others, it was a one-time thing. In the same way, others were able to recover and learn from this while some were destroyed and couldn't recover.
If you've never witnessed someone losing loads of money in a casino, or you can't imagine it, then read the stories below. These are all true stories, of real people, who lost real money in real casinos.
Terrance Watanabe
Terrance Watanabe is known for his long losing streak in Las Vegas. After inheriting his father's business in 1977, Oriental Trading Company, Watanabe became a high roller in Las Vegas.
He gambled in a few casinos in Sin City, but his most frequent was Caesars Palace. At some point, this casino was fined $225,000 for letting him gamble while drunk. However, this didn't erase Watanabe's problem with gambling as he ended up spending over $835 million. He was betting in blackjack and baccarat tables.
He ended up losing $127 million of his money to gambling. In 2020, he was still battling with gambling-related debts amounting to $15 million. There is even a movie in the early stages of production about his huge losses.
Charles Barkley
Former NBA all-star, Charles Barkley was also a Las Vegas high-roller. He would place massive bets on roulette, baccarat and blackjack games. He admitted to losing $2.5 million in a single blackjack game.
Every trip to Las Vegas meant placing millions of bets in table games for the NBA star. As a result, he lost around $30 million in casino games. He's been very open about his gambling problem and has no regrets about how much he loves playing casino games. However, he did admit that he tends to spend more than he can afford to lose. After taking a break, the former star player no longer wagers large sums of money.
Harry Kakavas
Harry Kakavas is an Australian former millionaire who suffers from gambling addiction. In 1998, he spent four months in prison for defrauding an Australian company. He netted $224,000 from this crime and gambled it away.
Between 2012 and 2013, in a period of 16 months, Kakavas spent $1.43 billion in Melbourne Crown Casino. His game of choice was baccarat and he lost $20.5 million. Compared to how much he gambled, he didn't lose much but he was a problem gambler. This was also declared and proven by the Australian High Court when he decided to sue the Melbourne Crown Casino for taking advantage of him. He lost the case on the grounds that Kakavas was able to make logical decisions on his own.
Maureen O'Connor
Maureen O'Connor was a mayor of San Diego, California when her gambling spiralled uncontrollably. Thankfully, her job wasn't affected by her gambling addiction, or at least not as much as her finances. The former mayor even borrowed $2 million from her husband's charity organisation and spent it all on video poker.
Compared to the $1 billion she spent on casino games, O'Connor played like a pro as she only lost $13 million. However, her gambling addiction did cost her in the public eye, borrowing money from a charity in order to fuel her gambling habit.
Robert Maxwell
The huge loss Robert Maxwell suffered due to gambling might not have affected him much financially, but there's a high chance that it bruised his ego because it happened so fast. Robert was a British officer, a member of parliament and a media mogul who built a media empire.
He was known in the gambling locales and as you can imagine, he placed huge bets. He would sometimes win big but sometimes lose big. But none of his single wins and losses matched the $1.5 million he lost in only three minutes playing roulette.
Maxwell decided to play on three roulette tables at once placing bets amounting to $1.5 million. He was at the Ambassadeurs Club in London and surely, he expected to at least win on one table but that was not the case and he lost it all.
William Lee Bergstrom
William Lee Bergstrom, sometimes called the phantom gambler or suitcase man, was a popular player at the Horseshoe casino in Las Vegas in the 80s. Most times, luck was on his side and he won big on craps until his biggest loss of $1 million.
The first time the phantom gambler visited the Horseshoe casino, he was carrying two suitcases. One was empty and the other carrying $777,000 he had borrowed from a bank to purchase gold. He exchanged it for chips and placed it all as a bet on the Don't Pass line. At the time the bet was the biggest single one of all time.
He won and came back with a total of $1.5 million which he carried in the two suitcases and left the casino. He came back a couple of times, placing smaller but still high-roller bets and would win most times.
One day, he came and placed a $1 million bet on the Don't Pass line, again, but this time he lost and that was his last casino bet ever. Unfortunately, Bergstrom lost it all and three months later, he was found dead in a hotel room. He left a note that the Horseshoe remembers him as the only phantom gambler.
Frank Saracakis
Unlike the above list of casino players, Frank Saracakis doesn't seem to have been a regular in casinos. All it took was one trip to London and a little pinch temptation in the mix for Saracakis to lose $13 million.
He was the son of the owner of a Greek automobile company and travelled to London in 1995. He stepped into Crockford Casino and instantly became a high roller. He bought $13 million worth of chips and spent hours playing roulette. Obviously, Lady Luck was not on his side, as he left the casino without a single chip.
After that incident, he didn't place any other significant casino bets and doesn't seem to have suffered financially due to the $13 million he spent on roulette. Which means that for him, it was just for fun. If it wasn't fun to lose $13 million to a casino, he knew not to do it again.
This is something that the six gamblers above learnt the hard way.
What is the Most Someone Has Lost in Vegas?
The biggest someone has lost is $127 million in Vegas. That's of course Terrance Watanabe in his long binge of casino game wagering in Las Vegas casinos.
How to Avoid Big Gambling Losses?
The key to losing large amounts while playing casino games is to place smaller bets. Most importantly, don't be like Charles Barkley and play for more than you can afford to lose. If you've won a couple of times, then great, but don't place a huge bet hoping that you'll win even bigger because the casino might just win this time around.
So, to avoid the phantom gambler's scenario, don't place a bet that you'll regret so much that you become depressed and think suicide is the only way out. Gambling should be fun and not lead to feelings of depression. When gambling online you can curb your wagering with deposit, betting, and time limits.
Summary Of Biggest Gambling Losses
If you look at the pattern of the biggest gambling losses, it's people who were addicted to gambling and thought that luck would be on their side. Most are high rollers who have obtained good wealth. While some lost it all, some are still wealthy but not as much as before and with a bruised ego.
Table games in land-based casinos are where most of these huge losses happened. There are many ways to avoid big gambling losses but the main thing to remember is that casino games are for fun. Once the fun stops or puts a strain on your finances, take a break.
FAQs About Biggest Losses
We have listed some of the most asked questions on the biggest casino losses below. We hope you find the answers you're looking for in the FAQs below.
What is Problem Gambling?
Problem gambling is sometimes referred to as gambling addiction. It's the inability to control the urge to gamble even when it has a negative effect on your life. Problem gambling occurs when playing casino games is no longer about entertainment but winning.
What is the Biggest Casino Bet Ever Lost?
The biggest bet ever lost has to be Robert Maxwell's $1.5 million bet on three roulette games. However, the one biggest loss on a single bet is the phantom gambler's, William Lee Bergstrom, $1 million bet on Craps.
What's the Biggest Someone Has Won in A Casino?
Kerry Packer won between $20 to $40 million playing blackjack and baccarat games at MGM Grand casino in Las Vegas.
Do Casinos Throw You Out for Multiple Big Wins?
They will not kick you out if you win big legally but they will if you are cheating. Even with big winners, chances are, they will come back and end up losing all the money they won.
Does Placing a Large Bet Increase Your Chances of Winning?
No. It doesn't increase your odds of winning over other players. It just means that if you do win, you'll win big.
54 Articles

Wayne has been writing about iGaming news and sites for several years, with a particular focus on New Zealand casinos. His background includes being an English teacher, and a professionally-published writer/editor for over ten years.
More Articles From The Author