Casino Terms and Phrases
Venturing into online casinos can feel like entering a new world, complete with its own unique language. Familiarizing yourself with casino terms is vital to fully enjoy the experience and avoid confusion. Grasping these key terms and phrases can help you navigate casino sites, understand the games you play, and potentially increase your chances of winning. In this article, we'll explore and explain various casino terms so you can confidently know where you stand while playing.
Introduction to Casino Terms – What Are They?
Casino terms refer to any words or phrases that are linked to what you'll find in casinos or that describe actions when you're playing. It can range from game names and variants to terminology for bets, your casino funds and other features.
You'll see these terms on the casino sites you visit. Plus other players will use them and you'll also see them here on our site in our reviews. Knowing and understanding the terms will give you a clearer picture of what a casino offers, can help you chat with other players and means you can use our reviews to pick the best places to play.

Important Casino Terms
We've created a glossary of casino terms that are part of a casino's lobby or a site's layout and functions.
Cashier
The place where you make transactions at an online casino is the cashier. At a brick-and-mortar casino, you would visit the casino cage for deposits (adding money) and withdrawals (collecting your money). However, at an online casino deposits and withdrawals are done at the cashier.
Bankroll
Once your money is in your casino account, it's referred to as your bankroll or balance.
Responsible Gambling
Casinos have a responsible gambling page. It provides advice to gamblers to keep their activity fun. You'll also find tools, questionnaires about problem gambling and links to support organisations.
Limits
At casinos, there are several sets of limits.
Time limits and loss limits are responsible gambling tools that you can set.
Deposit and withdrawal limits refer to the minimum and maximum amounts for transactions.
Table limits cover the limit set by the casino for a particular game. They refer to the minimum and maximum bets available.

Important Terms for Games
Each casino game uses particular phrases or a term for certain actions. We've included some general terminology that a player might encounter and specific gambling terms for particular games.
Croupier
Used in the live casino to refer to the casino employee running a game, such as craps or roulette.
Dealer
The people in casinos running card games, such as poker or blackjack, are known as dealers.
Banker
The person at the table that is betting against the other players. It's also one of the betting options in baccarat.
Stake
The initial amount you wager on a game.
Chips
Table games, such as roulette and blackjack, use chips, a type of token or casino currency for placing bets. They have different colours to represent different denominations. There isn't a standard system for colours, but red and white chips usually have a lower value and yellow and blue ones have a higher worth.
Tables
Tables or table games refer to any casino games played at a table, such as roulette, poker, craps, baccarat and blackjack.
Slot machines
Unlike table games, these 'machines' are terminals in brick-and-mortar casinos. You might also see them called pokies or video slots, as they show the reels on a screen.
Jackpot
The top prize or a special large prize that can be won from a casino game. A progressive jackpot is a prize fund that grows due to casino player bets across a network of games. The jackpot continues to increase until a player hits the winning combination.
Craps
A dice game in casinos, where players bet on the outcome of the roll of the dice. Players place bets on the number or numbers they think the dice will land on.
Blackjack
Blackjack is a card game at casinos where players aim to beat the dealer getting as close to 21 without going over.
Roulette
A classic casino game played with a ball and a wheel with numbered segments. You bet on the number or set of numbers you think the ball will land on the wheel.
Poker
A card game that's usually played against other players, but is also available to play against the casino. Poker has many specific terms; we've included the most common examples.
Hole cards – these cards are dealt face down and not viewed by the other players.
Community cards – the cards in the centre, such as in Texas Hold'Em poker, that are dealt face up for everyone to use to make a winning hand.
Pot – the sum of money that you're playing for during a hand or game.
Button – A marker to represent a player that's a dealer when a professional dealer is managing the game.
Blinds – A blind bet is made by the people to the left of the dealer or the button. It's a mandatory bet before the cards are dealt.
Ante – Some games don't use blinds. Instead, everyone pays the ante into the pot if they're playing that hand.
Video poker
A version of poker played on a screen against a computer. It's where the term pokie originated, but that's now used for any game at a terminal, including slots.
Bingo
Bingo is found at some casinos, the game involves matching rows and squares of numbers to those called out.
Variants
Describes different versions of games, such as French or American roulette or chemin de fer, a version of baccarat.
Deck
The deck is the full set of 52 cards used in a game, not including the joker. Many games involve multiple decks to prevent card counters.
Shuffle
When the cards in the deck are reordered, called shuffling the cards, usually before a new hand is played.
Hand
A hand is the cards you're dealt in a particular game.
Face Card
The high-value cards, also known as royalty, are face cards. It includes jacks, queens and kings. The ace is a numbered card, as are the cards two to 10.
Suit
The term suit refers to the four types of cards in a deck: hearts, diamonds, spades and clubs.
Burn Card
The top card from the deck is often removed and discarded in card games. No one sees it, and it's classed as burned.
Reels
Reels are where the symbols appear when playing pokies.
Spin
A term referring to the action of the slots when you place a bet and wait for winning combinations.
High Roller
It was specifically used to describe someone placing large bets on dice games, but is now used to refer to anyone that plays casino games with significant amounts of money, a big bankroll.
Card Counting
A practice not permitted by casinos, it's when players attempt to predict what their opponent has and the next cards to be dealt by counting them.
House Rules
A particular casino's rules for playing a game.
Random Number Generator
Also known as an RNG, it's used in games, like online slots, to determine random outcomes.
Payout Percentages
The casino has the house edge, also known as the casino advantage. It's expressed as a percentage to show how much profit the house takes over thousands of bets. The payout percentage is the other portion that is returned to the player. It's a theoretical number that players use to compare games.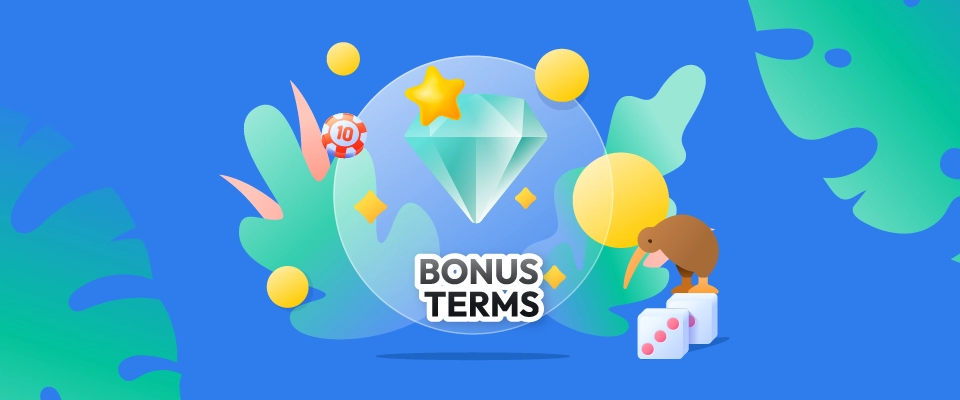 Casino Terms for Bonuses
Brick-and-mortar and online casinos provide incentives to players, known as bonuses. Here are some of the key terms.
Promotions
Another word for bonuses, it's the online page where casinos list their offers.
Deposit Bonus
Often given to new players, it provides some rewards, such as extra funds or free spins, when a player deposits. For example, a welcome deposit would reward players for making their initial deposit.
Comps
The perks provided by the casino, such as complimentary drinks, food or discounts on rooms, are known as comps.
Comp Points
This phrase is used at both brick-and-mortar and online casinos. These points are accumulated when betting and can be exchanged for rewards.
Free Spins
Free spins are a type of incentive that allows players to bet on slots without using their cash bankroll.
Cashback
These types of promotions return a percentage of a player's losses over a specific period.
Wagering Requirement
The number of times you need to bet a bonus before you can withdraw the funds. They are almost always attached to a bonus.
VIP
A status that's given to certain casino players, depending on their deposits, wagers and withdrawals. Often at online casinos there will be VIP programmes where loyal players are rewarded for their loyalty.
Loyalty
A scheme used to reward players that use a casino regularly. A VIP programme is also referred to as a loyalty program.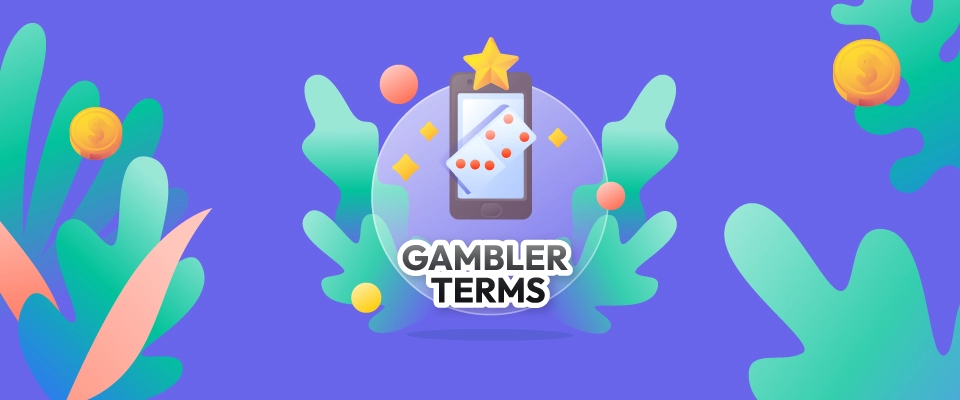 Terms By Gamblers
When betting, a gambler might use these phrases to describe their experience and actions.
Streak
Winning or losing streak – used by gamblers to describe whether they've had a number of winning or losing bets in a row.
Cold streak – a cold streak is similar to a losing streak. It emphasises the fact that losses seem to bring more losses, so it's probably time to quit or try something else.
Lucky streak – another word for a winning streak, although there's the added idea that luck is playing a big role.
All or Nothing
All or nothing means you bet all you've got on one outcome. For example, you might be down to your last few chips, so you go all or nothing on a particular number on roulette.
Side Bet
A side bet is offered in some casino games, such as blackjack. You place your usual bets on the outcome of the hand, but the side bet allows you to wager on other occurrences, like natural blackjack or getting red sevens.
Tip
In casino etiquette, it's common practice to leave a chip,which is the form of a tip, for the dealer or croupier after a big win or when you leave the table after some time.
Strategy
Strategies are most often used in games that require some skill, such as poker. It's a system that helps players understand which moves to make in different scenarios to improve their potential and their winnings. A strategy can also be applied to games of chance, but in a more limited way, such as deciding the size of a bet after a win or loss.
Beginner's Luck
Many gamblers are superstitious. Lots of people believe that when someone starts playing a game for the first time, they'll do well. However, that's just beginner's luck and things could soon change.
Card Shark or Card Sharp
Often seen at a table game, especially poker, a card shark has a ruthless playing style and preys on less advanced players, perhaps in a dishonest way. A card sharp also refers to a dishonest player, typically someone who cheats to win money.
Cut Card
This phrase is used in card games. Players cut cards to determine who begins or to resolve a draw. Each player takes a portion of cards from the deck and both reveal the card on top, usually with the highest winning.
Key Takeaways: Casino Terms
Whether you seek out a slot machine or play several hands in a card game, it's very useful to know the specific terminology for that game. All of this information will help you navigate the experience, get to grips with the games and sound like an expert.
There are also plenty of phrases that are specific to the casino environment. Instead of feeling overwhelmed, you'll now spot phrases that you're familiar with and know exactly what they mean. Try using a few phrases yourself next time you visit a casino or play online. Plus, head over to our reviews, where you'll see these casino terms in use to help you choose the best site.
FAQs About Gambling Terms
Before you pull up a seat at a gambling table, check out these answers to common questions about casino terms.
Card washing is part of shuffling the cards. The dealer 'washes' them by spreading them all out flat on the table and moving them around before bringing them back together in a different order in the deck.
Will knowing casino terms improve my chances of winning?
Yes, knowing the right terms can improve your chances. It can make a difference to knowing how to place the right bet, taking advantage of bonuses and making better decisions when playing.
Why do casino players use slang?
Casino slang is the same as any other slang. It's fun to use and helps gamblers spot others that are familiar with the environment and those that aren't. Slang also makes it easier to express what you mean in fewer words.
Where do casino terms come from?
Not all casino terms are slang. Some phrases were invented by players to make it easier to describe the action and the feeling of playing. However, many terms come from the games and their rules. They can be logical, like using the word pair to describe two matching cards, or connected to the origins of the game, such as French words like en prison, where your bet is held back for another spin in roulette.
Do casinos and bookmakers use the same terms?
Some sports betting terms overlap with the ones heard in a casino. Both talk about odds, stakes and bets. However, sports betting terminology has many terms that are specific to that activity. In sports betting, you're a bettor placing wagers on events.
54 Articles

Wayne has been writing about iGaming news and sites for several years, with a particular focus on New Zealand casinos. His background includes being an English teacher, and a professionally-published writer/editor for over ten years.
More Articles From The Author